5 Best Free DxO PhotoLab Alternatives With Similar Features! [TESTED in 2022]
Last Updated by Shauli Zacks on August 07, 2022
While DxO PhotoLab is a high-quality digital editor, it's obviously not for everyone. Some don't like the interface, while others prefer different filters and effects. In both cases, finding a good alternative can be a time-consuming and costly mission.
I've taken care of the research for you. I downloaded over a dozen free digital editing programs to find suitable DxO PhotoLab alternatives with similar features. I quickly found that completely free options just aren't that good. The main issues I had were a lack of features, the program really slowed down my computer, or left ugly watermarks that could only be removed by purchasing a subscription. Therefore, I included software with a free trial, as long as I could access the premium features and export the pictures without watermarks.
Adobe Lightroom stood out above the rest of the programs I tested. It is very easy to use, with smart AI tools doing a lot of the hard work. It has tools for cloning or removing objects from a picture, adding filters, compatibility with RAW images, and organizing your pictures. Adobe Lightroom comes with a 7-day free trial, so you can try out its features and edit your pictures at no risk!
Try Adobe Lightroom Free for 7 Days!
Quick Guide: The 3 Best Free DxO PhotoLab Alternatives in 2022
Adobe Lightroom: A complete photo manipulator, editor, and organizer. Lightroom has a variety of filters, AI editing tools, and special effects.
Luminar: AI-powered editing tools can automatically fix common errors, but doesn't have a good file management system.
InPixio: Large collection of filters and tools to remove unwanted objects, but it doesn't come with cloud-based storage.
Try Adobe Lightroom Free for 7 Days!
What I Look for in a Free DxO PhotoLab Alternative
Replacing software like DxO PhotoLab requires some research. I had to ensure I could properly edit my pictures for business and personal reasons. During my tests, I made sure the alternatives I recommend meet the following criteria:
Special Effect Tools: I'm looking for advanced effects that can give my pictures a polished and professional appearance. Some examples are changing the background or sky, removing unwanted images, adjusting colors and tone, and more.
Photo Organization: A tool that simplifies the process of organizing my pictures, creating albums, and adding metadata, keywords, and geotags.
Ease of Use: I don't want to spend all day learning the various tools and features. The program should be easy to use and accessible to people without an editing background.
Export and Sharing Options: A streamlined process for exporting and sharing photos is very important.
Free Plans or Free Trials: My goal was to find 100% free programs. Unfortunately, the free programs don't have the feature I need, so I expanded the list to free trials.
Best 5 Free DxO PhotoLab Alternatives with Similar Features
Easy to use editing tools
Crop, rotate and straighten images
Add special effects and filters
Shift image focus
Turn your favorite setting and filters into presets
Unlike Adobe Photoshop, Lightroom is a very easy tool to use. It relies heavily on AI to detect and correct errors in the picture. This includes straightening a picture, correcting the focus, and adding and removing noise.
The software is not completely automated. There are manual adjustments that you can make. However, you don't need to be a graphic designer or digital editor to master the tools. Each tool is managed by moving a slider to the right or left. The edits are non-destructive, and you can make the changes in real-time. If you don't like how it looks, simply move the slider back to the original spot.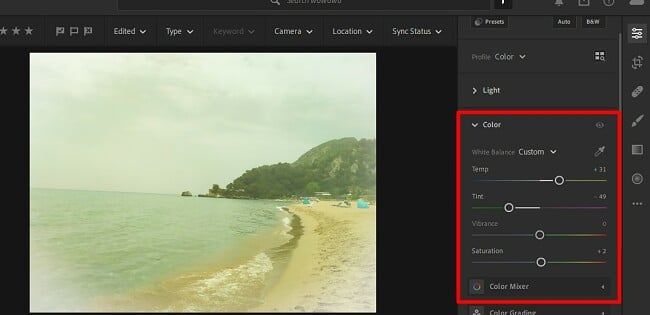 The software makes it easy to remove unwanted items from the background of pictures. All you need to do is use the clone and heal tools, and you can remove unwanted objects while maintaining the natural look and feel of the picture.
In the example below, I took a picture of my daughter hiking, and there was a woman next to her.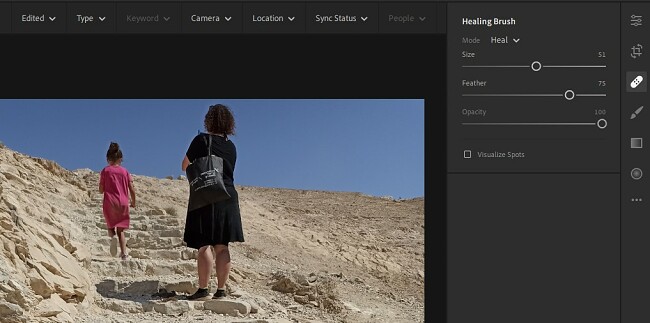 I used the clone tool to remove the woman and replace her with the landscape and scenery surrounding them.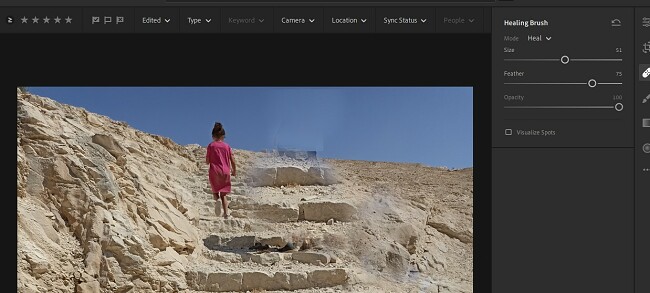 Another group of tools I enjoyed are used to add a different style to pictures. I was able to quickly give the picture a vignette, add or remove the texture, adjust the geometric shape, and add filters to change the style and tone of the picture.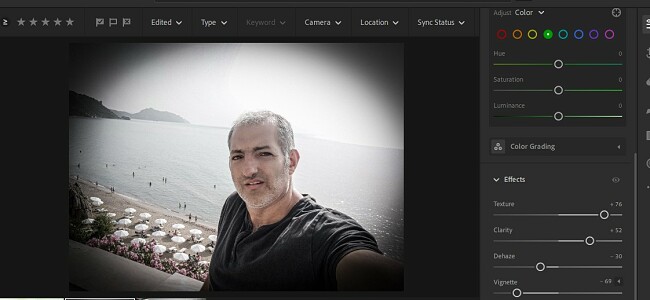 In addition to editing the images, Lightroom also makes it easy to collaborate with others through the Adobe Creative Cloud. It's easy to share photos with anyone by sending a link and giving them editing or viewing access. There is also a Discover section where other users can upload their pictures, share tips and tricks to help you take your edits to the next level.
You can take advantage of the Adobe Lightroom free trial and use the software free for 7 days. The software is so easy to use that I was able to edit and export over 100 pictures during my free trial.
Try Adobe Lightroom Free for 7 Days!
Easy to use for everyone
Remove unwanted images without distorting the image
Insert AR objects into any image
Large variety of professional digital editing tools
Luminar is one of the most user-friendly editing programs I have used. The tools are divided into four categories, each neatly docked on the right side of the workspace. The majority of the tools work with a slider that you can adjust to apply the edits. If you aren't sure where to start, the Auto option capitalizes on the AI technology and automatically applies basic fixes to the picture.
The four tool categories are:
Essentials: The core tools for cropping, rotating, adjusting or removing colors, and adding structure to the image.
Creative: Add the creative touch to your pictures with unique filters, change the sky or background, add AR objects, put a frame around the picture, and more.
Portrait: Use these tools to enhance pictures of people or animals. You can remove skin blemishes, change skin tone, adjust facial features and shape of the face, and add bokeh filters.
Professional: Even the higher level tools are easy to learn. You can adjust colors and tones and other editing techniques that professionals use to give your photos the desired result.
The Luminar edits are non-destructive, which means that you can undo the edits and keep the original if you're not satisfied with the end result.
The tools in the Creative category don't work with a slider, but they are still easy to use. To change the sky in your picture, just can simply click on any of the sky backgrounds in the media library. If you want to remove unwanted images, just highlight the objects or people with your mouse, and the AI tool will remove them from the image. It then automatically fills in the empty space by matching the colors and pixels to the surrounding area.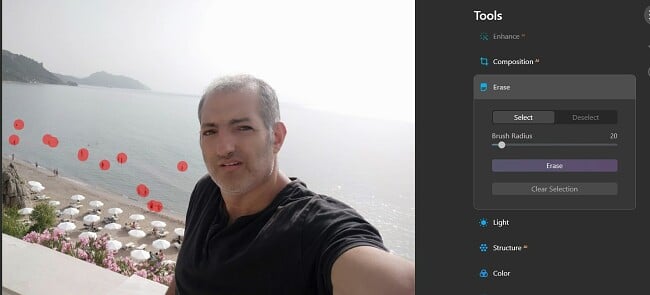 I really enjoyed playing with the Portrait tools. They make it easy to adjust facial features, such as turning a smile to a frown, making a face more narrow or wide, moving the hairline, and changing the space in between the eyes. The adjustments are made using sliders, so you don't have to worry about adjusting pixels or cutting and pasting to achieve the results you want.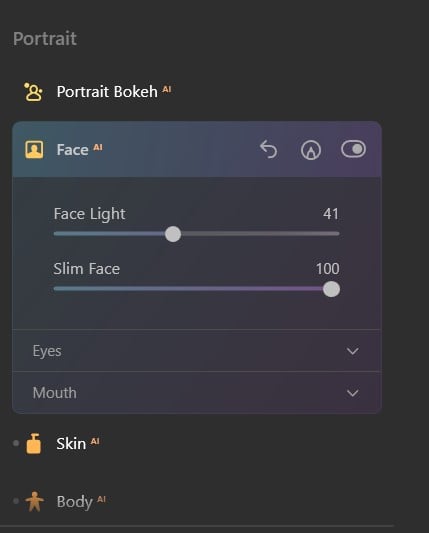 The one downside of Luminar is that organizational tools aren't as good as Lightroom. While you can add basic tags and metadata, there is no option for sorting based on custom tags and EXIF and IPTC data.
Luminar doesn't have a long-term free plan. However, when you download the software, you will automatically receive an unlimited 7-day free trial. This should give you plenty of time to edit your collection of pictures and export them to your preferred format.
Remove unwanted images with ease
Change the background of your picture
Add frames to gives your picture a finished look
If you want to add fun effects and frames to your digital pictures, the latest version of InPixio Photo Editor is a good option. It has several single-click editing options that can completely change the look and feel of the picture.

Another fun feature is the option to isolate a person or object and remove everything else. Then, you can insert the object or person on a new background or picture. InPixio comes with a nice collection of backgrounds, or you can upload your own. In the example below, I removed the background from a picture of me overlooking the beach.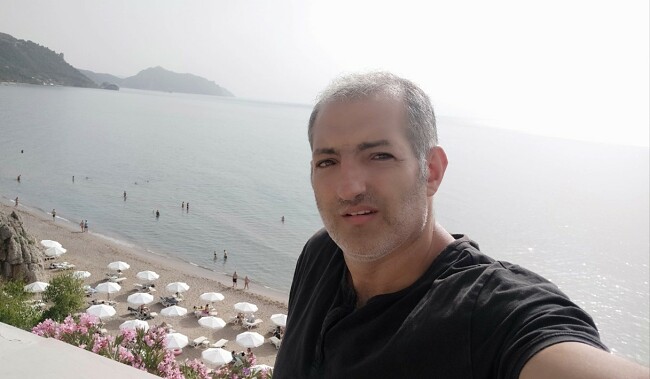 And completely changed my vacation pictures, so it looked like I was in Athens, Greece, at the Acropolis.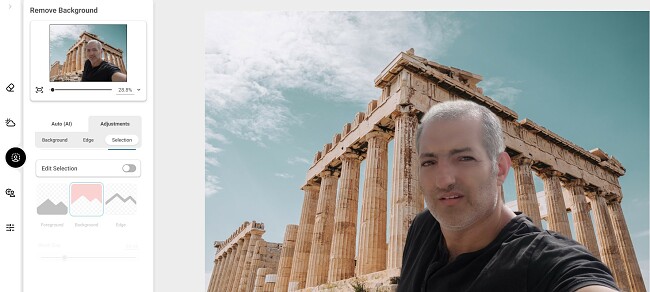 In addition to these tools, I was happy with the editing tools. While they are not as comprehensive as Adobe Lightroom, I used the single click option to change the color tones, add filters, adjust shadows, and readjust the focus.
The software doesn't only rely on single-click edits. Like other user-friendly digital editors, it has sliders for making adjustments to exposure, saturation, and brightness. When you make these edits, InPixio will show you a side-by-side view of the original and edited versions.
There are more than 100 texture-based filters that you can use to change the look of your digital images. It also comes with filters that have geometric shapes, a bokeh effect, double exposure, classic film style, and more. When you're done choose a frame to complete the image, and share it directly to your social media networks or send an email.
The free version of InPixio limits some of these features and adds a watermark on the bottom of the picture. But before you commit to a plan, you can start with the 5-day free trial that gives you unlimited access to all the features and no watermarks.
Create a photo collage with as many as 10 pictures
Stitch multiple images together for a panorama effect
You can do all your basic digital editing with PhotoScape X. It has user-friendly tools for cropping, resizing, adjusting colors, removing shadows, and color contrast.
It also comes with a collection of 25 special effects, 8 transformations, and over 20 adjustments that you can apply to any picture. These help you transform a regular picture into a fun image that you want to share with friends or colleagues.
One of its best tools is a batch editor. I found that it saved me a lot of time when I wanted to add a filter to a group of 15 pictures. Instead of recreating an exact replica of the custom filter for each picture, PhotoScape X let me choose all the images, and it automatically applied my edits. In addition to editing changes, you can use the batch feature to change the file formats of multiple pictures.
The software has some advanced tools, like a lasso, magic eraser, and brush that you can use to remove backgrounds, smooth edges, and cut out unwanted objects. These are a little more difficult to use and require a little practice to achieve flawless results.
The free version of PhotoScape X gives you access to most of the tools and some of the filters and effects. It's important to note that PhotoScape X is only compatible with Windows 10+ and macOS 10.12 later.
Intuitive photo editing tools
User friendly interface
Photo Pos Pro is a reliable tool for editing and adjusting digital pictures. It has integrated tools that make it easy to complete basic editing techniques. It also has a small collection of AI-based tools for changing the sky, removing unwanted objects, erasing blemishes on people, and adjusting brightness and contrast. The toolset also includes filters, effects, and brushes to give your pictures a unique look. If you don't see the filters or effects that you want, there are themed variety packs that you can purchase and download. For example, you can get a holiday package that includes effects and filters that add some holiday cheer to your pictures.
When getting started with Photo Pos Pro, you can choose the workspace style that fits your needs. The beginner option limits the number of tools and removes any advanced editing tools. The Expert interface has a larger selection of tools and will take some time to get used to.
Photo Pos Pro works with several different image formats, including RAW images and DSLR, and you can upload images directly from your scanner.
When DxO PhotoLab isn't For You…
While DxO PhotoLab has a solid collection of photo editing tools, these alternatives can help you make your pictures look even better.
If you're looking for an easy-to-use comprehensive digital editor, Adobe Lightroom is a perfect solution. It gives you access to the powerful Adobe editing tools, compatibility with all Adobe Creative apps, and 1 TB of cloud storage. Try Adobe Lightroom free for 7 days!
If you're looking for an AI-based program that can make non-destructive edits, check out Luminar. It's one of the easiest programs to learn, and you'll be editing your pictures in no time. Simply move the sliders to the right or left and let the smart software do the rest. Try Luminar risk-free for 7 days.
If you want to change your background and sky with a single click, InPixio Photo Editor is a good option. It has some fun features and effects that can enhance your pictures with just a click of the mouse.
FAQ
Is Adobe Lightroom really free?
While there is no long-term free plan for Adobe Lightroom, you can follow this link to get your 7-day free trial. During the free trial, you will have unlimited access to all the premium features, so you can edit, organize, and export your pictures.
Is it easy to remove unwanted objects or change the background of an image with Adobe Lightroom?
Yes! Lightroom comes with a collection of easy-to-use tools for removing unwanted items, changing the background, and changing the sky in your pictures. You can use the clone and heal tools for removing unwanted objects while maintaining the natural look of your picture. The sky replacement tool gives you a selection of different sky options, including sunrise, sunset, clouds, no clouds, and beautiful colors, and it uses AI to merge it onto your picture seamlessly.
What is better, DxO PhotoLab or Adobe Lightroom?
Both programs have their advantages. The DxO PhotoLab U-Point tool is a great feature once you learn how to use it. However, overall, Adobe Lightroom is a superior tool with more features, tools, and creative possibilities. Additionally, you can include the entire Adobe Creative Suite in your 7-day free trial for even more creative possibilities.