5 Best Free Dashlane Alternatives With Similar Features! [TESTED in 2022]
Last Updated by Shauli Zacks on October 01, 2022
It's easy to get overwhelmed as you start looking for an alternative since there are so many options, and each one claims to do pretty much the same thing as Dashlane. Choosing the wrong password manager can leave you vulnerable to identity theft. For this reason, I would avoid a free password manager, as they are not as secure as a premium tool.
To make it easier for you, I've downloaded and tested dozens of free password managers. After careful comparisons, 1Password was the best in most of the categories I tested and came up as the best Dashlane alternative.
In addition to storing and encrypting all your passwords, it has excellent security features. It can generate strong and secure passwords, keep a password history for 365 days, send alerts about password and security breaches, and sync between multiple devices. You can get full access to all these features for free through their official download link. You won't have to make any commitment and no credit card details are required.
Try 1Password Free for 14 Days!
Quick Guide: The 3 Best Free Dashlane Alternatives in 2022
1Password: Store unlimited passwords, AES 256-bit encryption, alerts for password breaches, easy password sharing, and syncs across multiple devices and platforms.
RoboForm: Auto-fills passwords and payment information, tools for creating strong passwords, but customer support isn't that responsive.
Keeper: Zero-trust and zero-knowledge security protect your password from hackers, but dark web monitoring is only available with the most expensive plan.
Try 1Password Free for 14 Days!
What I Look for in a Free Dashlane Alternative
Finding an alternative to Dashlane for storing and securing your passwords isn't something to be taken lightly. If you download the wrong software, you instantly become vulnerable to hacks, identity thefts, stolen credit cards, and more. Therefore, I had to be sure that the alternatives I recommend are trustworthy and actually secure my sensitive information.
Secure Platform: The software must use at least 128-bit encryption to protect my passwords and payment information. I also looked for tools that generate secure passwords, scan the internet for security breaches, and multi-factor authorization for access to the password vault.
Auto Fill Data: Once the password is stored in the vault, the software should be able to autofill the necessary data when I land on a page, so I don't have to start copying and pasting.
Sync across multiple devices: Between work, home, and my phone, I use at least four different devices every day. The password manager must be able to securely sync all my devices, so I can easily access my accounts no matter where I am.
Easy to Use: From generating and storing new passwords to using the passwords to log in, I need a streamlined process that pretty much runs on its own.
Free Trial: Let's be honest, using a completely free password manager is not a good idea. Therefore, I was looking for premium software with a free option, but those put a limit on the number of passwords and blocked most of the features.
Best 5 Free Dashlane Alternatives with Similar Features
Combines master password and secret key to protect your data
Unique Watchtower feature gives you a security overview
Multi-factor authorization includes an option for authentication with USB keys
Create multiple password vaults to stay organized
Keeps track of deleted passwords for 365 days
1Password has an easy to use interface and works on every OS I tried, including dedicated apps for mobile devices. The software uses AES 256-bit encryption to secure the data, plus a nice collection of other security measures. It also saves your password history for 365 days to protect against accidentally deleting a password.
While most of the password managers I've used have a master password for decrypting the data, 1Password also has a secret key for enhanced protection. The system automatically generates this key during the initial setup, after you enter your master password. These two keys work together to add an extra layer of security when encrypting and decrypting the data.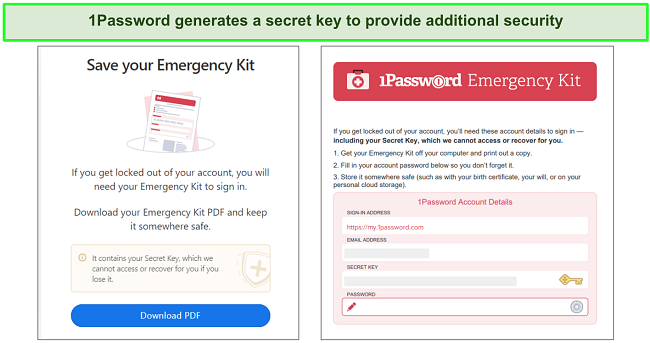 Another impressive security feature is 1Password's zero-knowledge policy, which prevents anyone from 1Password from seeing your data.
In addition to storing and securing passwords, the software is helpful in monitoring your online security. The Watchtower feature grades your password security, informs you if you've reused the same password too many times, and whether it appears in any online leaks or hacks. The Watchtower also lets you know when credit cards or licenses that are stored on its database are nearing the expiration date.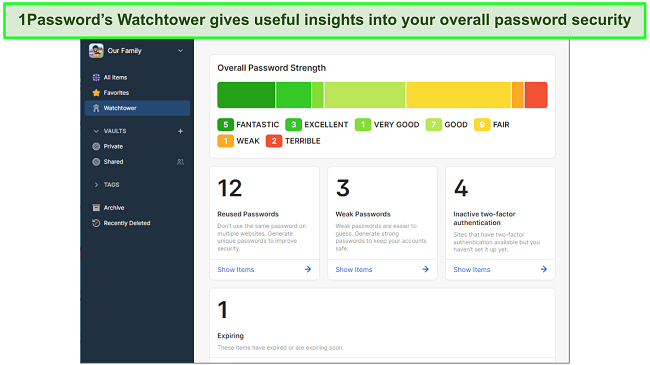 1Password excelled in the password management category during my tests. I organized my passwords by creating multiple vaults. I had vaults for work, personal, and family accounts. The advantage is that not only does it make it easier to find the password I need, but I can apply different settings for each vault. It makes it easier to share passwords, like for example if I want to share company passwords with colleagues, I can give them access to the work vault and not worry that everyone will have my Netflix or credit card information.
While there is no free plan, 1Password has a 14-day free trial, where you can try out the premium features and see how seriously it takes your online protection, There's no commitment and no credit card details are required.
Secure storage for all types of login and payment data
Industry standard encryption and local decryption to ensure your data remains private
Single-click saving option for new passwords
Customize the type of password it generates
When RoboForm was first released, it was a tool that specialized in automatically filling online forms. Now, it's taken its form filling capabilities and added a comprehensive and secure password manager.
Its form filling background helps separate RoboForm from most of the other software I tested. It automatically recognizes when you enter login information on a website, and offers to save, store, and secure it with a single click.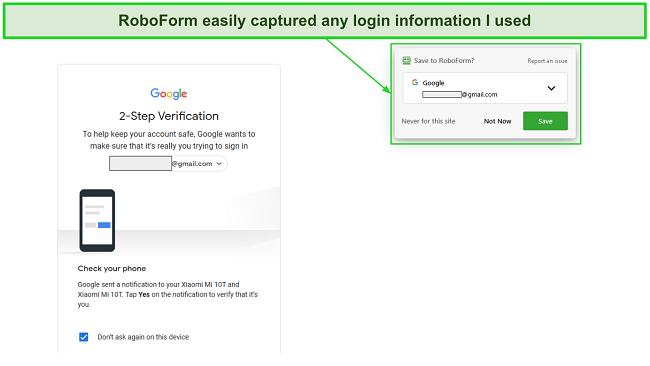 The single-click usability is also in effect when you visit a website. RoboForm will ask if you want to auto-fill your username and password, so you never have to remember a password again. This also works if you need to upload personal details, like name, address, phone number, credit card information, or ID number.
Your data is secured with AES 256-bit encryption, so you don't have to worry about hackers accessing your personal data. You will need a master key to decrypt the data on your local device, which is an added layer of protection in case someone else has access to your computer or mobile phone.
I found it easy to manage my passwords with RoboForm. The software can generate any type of password, and even has the option to customize the password style. I could choose whether I wanted just numbers, letters, special characters, or a mix, plus the length of the password. While it doesn't have the same sharing capabilities as 1Password, you can create an emergency access code, which would allow other users to access your account.
RoboForm has a basic free plan, but I recommend upgrading to the premium option for advanced protection and features. You can try it risk free with a 30-day money-back guarantee. If you find it doesn't meet your specific needs, you can easily request a refund.
Single-click autofill login information
Stores personal and payment information
Scan the internet and dark web for security breaches
Extensions for most major browsers
Keeper is an easy-to-use password manager with some good password management features. The data is stored on a secure cloud-based server. You need to enter the master key to decrypt the AES 256-bit encryption that secures the data.
I created different vaults to store my data. Keeper not only manages passwords but other personal and financial information as well. There is a share option, so I can safely give access to specific vaults.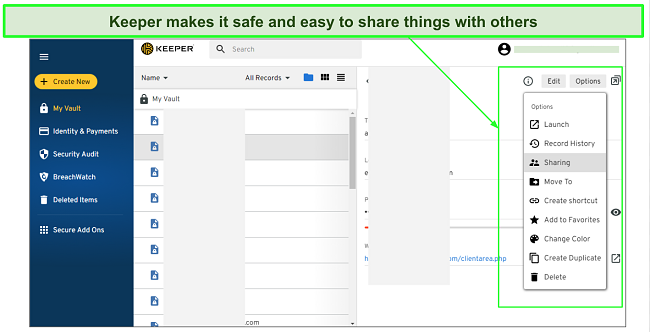 The password auditing tool monitors the stored passwords and alerts if you have weak or duplicate passwords and if any of your passwords are exposed in a data leak. The BreachWatch feature focuses on monitoring the dark web and gives instant alerts if it detects your passwords are compromised.
You can also send encrypted chat messages through the KeeperChat feature. It has an unsend option, a self-destruct option that automatically deletes a message after a specific time period, and alerts you if someone takes a screenshot of your message.
Another crucial privacy feature is the zero-knowledge, zero-trust approach which prevents the Keeper employees from being able to view your data. The company has been audited multiple times and is GDPR and ISO 270001 compliant.
Keeper has a completely free version, but you won't have access to any of the premium features. Instead, you can start with the free 30-day trial, which gives you access to all the premium features.
User-friendly interface for all apps and browser extensions
Write secure notes that can only be read with the master password
Sync passwords across all devices
Panda Dome Passwords is a simple password manager. While it doesn't have an abundance of extra features, it's easy to use and gets the job done.
There is no desktop application to download, instead, you can simply install a browser extension. The extension collects your passwords and stores it on a secure server.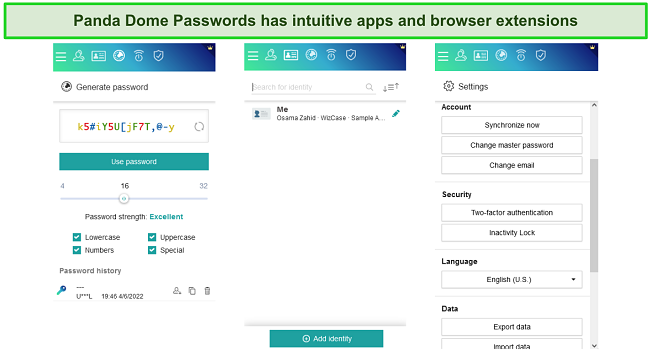 The password generator creates a secure password, and you can customize the length and style of the password. It also stores all login information and automatically fills in the forms.
Panda Dome Password uses military-grade encryption to prevent unauthorized users from viewing your data. The other security features are two-factor authorization, a security audit that ensures your passwords are strong, and alerts if your passwords were leaked in a software breach.
A unique feature that I haven't seen is remote control access, which works with the browser extension. The Secure Me feature allows you to log out of websites and delete your browser history. There is also a Secure Note tool. You can use it to write post-it notes that can only be read after entering the master password.
While there is no long-term free option, you can try Panda Dome Password free for 30 days. This will give you a chance to get a first-hand look at the features and how easy it is to store your passwords,
Try Panda Dome Password for Free!
Stores passwords, credit cards, and personal information
Securely share passwords and login information
Compatible with USB sticks and memory cards
Sticky Password uses AES 256-bit encryption and two-factor authorization to secure your sensitive data. The software doesn't have as many advanced features as 1Password, but it does a good job saving the data and automatically fills in the forms.
When you create your account, you will need to generate a master password, so that no one else can view your data. You must store this password in a secure location because the zero-knowledge security means that no one at Sticky Password can help you recover your data without it.
With Sticky Password, you can add multiple passwords for a single website. This is helpful if you're sharing a computer with multiple people or have multiple accounts for business and personal use. The password generator can generate passwords of up to 99 characters, combining numbers, letters, symbols, and special characters.
Sticky Password has a decent free version, which includes 30 days of access to the premium features. The free plan includes a password generator, unlimited passwords, and the option to create secure notes.
Try Sticky Passwords for Free!
When Dashlane isn't For You…
While Dashlane is a powerful and secure password manager, the alternatives listed above have some excellent features. So if you're switching your password manager, perhaps this can help make your decision easier.
If you're looking for robust security features, 1Password is the right choice. In addition to the master password, there is a secret key, multi-factor authorization, zero-knowledge policy, and Watchtower that audits your passwords and checks for data breaches. You can try it free for 14 days – no credit card required.
If you want the option to generate a custom password, try RoboForm. You can create a password that consists of just numbers, letters, special symbols, or a combination of them all. It also specializes in quickly adding your personal information, payment information, and passwords to forms. You can try RoboForm risk-free for 30 days.
If you also want protection from identity theft check out Keeper. The patented security architecture protects your sensitive data with an easy to use interface. Try Keeper free for 30 days.
FAQ
Is 1Password free?
While there is no free 1Password plan, you can try out the password manager free for 30 days – no credit card required. The free trial gives you unlimited access to all the features to give you a first-hand look at all the powerful tools.
Is 1Password secure?
Yes! 1Password has an excellent collection of security tools. You can combine a master password and a secret key with 256-bit encryption and a zero-knowledge policy for complete privacy. It also has several tools to ensure your passwords are strong and that your sensitive data hasn't been leaked in a data breach.
What is better, Dashlane or 1Password?
Both password managers come with the same basic features, such as 256-bit encryption, syncing across multiple devices, secure password sharing, and two-factor authorization.
However, some differences exist, such as Dashlane comes with a VPN and can automatically change the password. The advantages that you get with 1Password are vault sharing, travel mode, and unlimited users with a Family Plan.
Take advantage of the 1Password free trial for 30 days of access to all the premium tools.