5 Best Free Carbonite Alternatives With Similar Features! [TESTED in 2022]
Last Updated by Shauli Zacks on June 16, 2022
Carbonite is one of the best data backup platforms I've used for PC and Mac. It requires very little setup, continuously runs in the background, and securely backs up pictures, videos, documents, system settings, and more to an encrypted cloud storage center.
However, Carbonite doesn't have the fastest speeds for backing up and restoring files despite all its advanced features. Therefore, I downloaded and tested over a dozen backup services to find a reliable free alternative.
It didn't take me long to conclude that I wouldn't find a truly free program with similar features and faster speeds than Carbonite. So, I expanded my search to include free trials, provided I didn't have to use my credit card and had access to the premium tools.
Acronis stood out as the best option. Along with fast speeds, it had all the tools I needed to back up my computer, encrypt the data, and even check for malware. You can try Acronis risk-free for 30 days – no credit card needed!
Quick Guide: The 3 Best Free Carbonite Alternatives in 2022
Acronis: Continuously runs in the background and backs up the latest files, uses advanced security to encrypt the files, disk cloning features, and malware protection.
Dropbox: Backs up pictures, videos, and documents and syncs them to your device but doesn't have automatic continuous scanning.
Backblaze: Customizable backup scan and unlimited storage, but no malware protection.
What I Look for in a Free Carbonite Alternative
Replacing software like Carbonite shouldn't be done without proper research. I needed to ensure that my data wouldn't get lost, would stay secure, and could access it when I needed it. To find the best alternatives, I check to see if they match the following criteria:
Storage Capacity: I needed enough storage for my entire hard drive, plus some extra space for multiple versions of the same file, tracking changes and adding new files. I prefer a program with unlimited storage, so I never have to think or worry about upgrading for more space.
Ease of Use: An intuitive program is very important. I'm happy with customization options, as long as they are easy to set up, and I know that I can back and recover my data without having to spend too much time learning the software.
Advanced Features: In addition to backing up my files, I check the software for other features. I want a desktop application and web-based applications. It needs to make teh files easily shareable and accessible on other devices.
Security: Any software I recommend must have comprehensive security options. I need to ensure that the data and files that are backed up can't be viewed or accessed by unauthorized personnel.
Free Trial: While I didn't find any completely free programs for backing up my data, I needed a free trial to test the software and make sure it was good properly.
Best 5 Free Carbonite Alternatives with Similar Features
1 TB Cloud Storage is compatible with documents, files, software, apps, documents, photos, videos, and operating systems.
Continuous updates or schedule a date and time for backup
Multiple recovery options, including specific files or the entire database
Prevents and removes malware from your computer
Easy to use, intuitive desktop client
Acronis is a comprehensive cyber security tool. While its main purpose is to backup all your data to a secure cloud, it has a powerful anti-malware feature.
After the initial setup, you can leave it alone, and the software will automatically do its job in the background. All your files will be securely copied to secure cloud storage. It updates files in real time to ensure that nothing gets lost. If you don't want the program continuously running, you can set up a backup schedule so the system runs when you're typically away from your computer.
The desktop client has an easy to use dashboard. You can access and activate any of the features with a click of the button.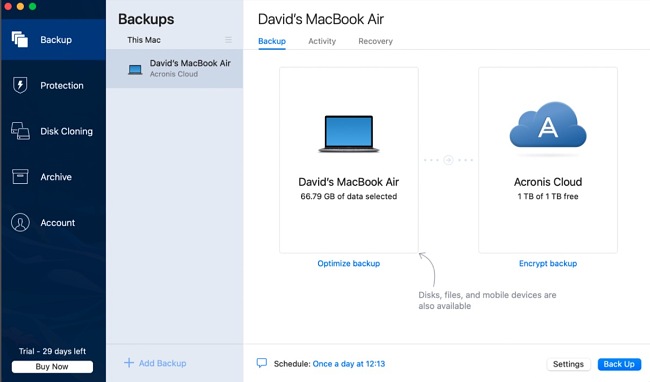 The backup feature comes with 1 TB of space. It's compatible with nearly every file type, including your operating system and its setting. In addition to computers, Acronis can backup mobile devices, external drives, and files on OneDrive and Outlook. Blockchain technology secures your backup files and prevents damage or hacks. You can access your data from any computer and restore files to the new device.
The disk cloning features make it easy to create an exact replica of any drive. This is helpful if you're migrating to a new computer and want to move all the data from your old device to an external hard drive. Unfortunately, this is the only tool that isn't available in the free trial.
Another helpful tool is the file archive. This is slightly different from the regular backup, as it compresses the file to free up even more space.
The final feature is the antivirus and malware scan. It works in the background 24/7 and prevents all types of malicious files from attacking your computer and exposing your personal data.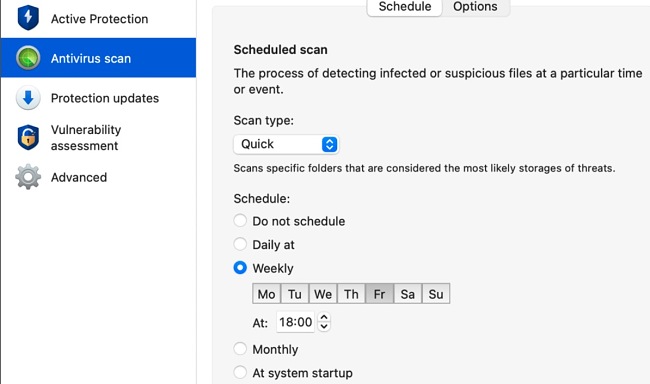 You can download and use Acronis free for 30 days – no credit card required. This should give you time to create a backup, restore it to another device, and experience the speed and advanced features.
2. Dropbox: Drag and Drop Interface for Backing Up Files to Cloud
Easy to share files and collaborate with others
Access files from anywhere
Compatible with nearly 200 file formats
AES 256-bit encryption protects the files
Dropbox makes it easy to backup your files and access them from anywhere. You can download a desktop app or browser extension, and quickly upload any file to your secure account. You can upload specific files or designate entire folders to be backed up.
It's an excellent collaboration tool. You can share files by sending a link and give other people access to edit or manage the files. The edited files are then synced to all your devices, so you always have the latest version. Don't worry about losing your changes. Dropbox has version control to track all changes for 30 days. You can revert to a previous version with a single click.
Dropbox is a secure platform. While files are being shared or uploaded to your cloud server, they are protected with SSL and TLS protocols. The server has AES 256-bit encryption to keep all unauthorized users from accessing your files. You can also set up two-factor authorization to prevent someone from guessing or stealing your password from gaining access to your files.
The main drawback of Dropbox, when compared to Acronis, is that you can't automate the backup process, and there's no antivirus or antimalware scanning.
Dropbox has a free option, but it's limited to 2 GB of cloud storage.
3. Backblaze: Unlimited Storage and Fast Upload Speeds
Private encryption keys and multi-factor authorization
Automatically scans drives and builds a backup profile
2048-bit public/private encryption keys
With unlimited cloud storage, you can backup your entire computer with Backblaze. It's a simple platform that scans your hard drive for a wide range of files. Then it displays how big your backup is and how long it will take to complete the upload. The default setting is to upload all files, but you do have the option to choose which files you want to back up or prevent from backing up.
If you have limited bandwidth or the upload will slow down your computer, you can schedule the backup for a time when you are away from the computer.
You can only restore the data from the web application, as it isn't available through the desktop client. It can be restored to a computer, a B2 cloud account, or a USB drive.
The biggest issue I have with Backblaze is from a security standpoint. Instead of standard encryption, I had to upload the encryption myself when I wanted to retrieve the files, which means they aren't so well protected on the cloud. If security is a big issue for you, I recommend Acronis which uses powerful encryption and Blockchain to secure your data.
4. IDrive: Sync and Share Backed Up Files
Zero-Knowledge encryption secures your backup files
Deleted files remain on the server for 30 days
IDrive works on all devices and allows for unlimited devices. It's compatible with image-based, NAS, Android, iOS, and external hard drives. You can create a schedule for each device or activate continuous backup to ensure nothing ever gets lost.
It is really easy to share your files with other users. You can choose specific files and folders or the entire database and press the share button. Then, enter the email addresses and set permission levels for each person. However, if you choose to share files, you will need to downgrade from the zero-knowledge encryption to the default encryption level.
Unlike Acronis, which has unlimited storage, IDrive offers 5 TB of storage, although the 30-day free trial is limited to 1 TB.
5. Zoolz: Complete Control Over the Backup Process
Fast upload and recovery speed
Flexible limits for versioning and retaining deleted files
The Zoolz backup service is limited to PC and Mac, with no apps for Linux or mobile devices. The files are backed to the Amazon Web Service (AWS), which is well-known for its high-security standards.
It's a basic platform that only focuses on being a fast backup provider. That means it won't scan for malware and viruses and doesn't offer disk cloning or other advanced features.
It does allow you to customize how many version changes of each file you want to save. The same flexibility is available for deciding how long deleted files stay in the archive.
Zoolz has a 14-day free trial, which helps share files or back them up and restore them on a different device.
When Carbonite isn't for You…
Carbonite is a secure, albeit a bit slow, backup service that is compatible with a wide range of file formats. However, it isn't perfect, and there are a few valid reasons to search for an alternative.
If you need disk imaging or disk cloning, check out Acronis. You can create an exact replica of your entire computer, including the OS. Acronis runs continuous scans, so you'll have the most recent version. Try it free for 30 days – no credit card required.
If you're interested in sharing files and collaborating with others, you can check out Dropbox. While it doesn't have continuous or scheduled scans for backups, you can drag and drop files to your Dropbox cloud and give access to other users.
FAQ
Is Acronis Free?
Unfortunately, there is no long-term free version of Acronis. However, you can get free access to the premium software for 30 days – no credit card required. The only limitation during the free trial is that the disk cloning feature is blocked. Otherwise, you can back up your files, archive older and large files that you don't need, and remove malware.
Is Acronis secure?
Acronis secures your backup files while in transit, with TLS, and on the cloud with advanced AES 256-bit encryption.
To ensure your files are protected, it's important to download the app from the official Acronis site. Otherwise, you might end up with a copycat file, an outdated version with security flaws, or one that is infected with spyware, malware, or other malicious files.
Which is better, Acronis or Carbonite?
Each of these backup services has its strengths and weaknesses, so it's important to know what you need. For example, Carbonite has unlimited storage, while Acronis offers users 1 TB of space on the cloud.
From a security standpoint, the standard encryption on Acronis is 256-bit, while Carbonite uses 128-bit encryption, with the option to upgrade to AES 256-bit.
If backup, upload, and restore speed are important to you, I recommend going with Acronis, as it outperformed Carbonite in the speed tests.