How to Watch fuboTV From Anywhere (Updated Guide 2022)
Last Updated by Kate Hawkins on July 01, 2022
fuboTV is an all-inclusive streaming service that specializes in live sports and is only available in the US, Canada, and Spain. Despite what outdated information on the web claims, you'll be blocked from accessing fuboTV if you're outside of these 3 countries.
Fortunately, you can use a VPN to bypass the fuboTV error message to access over 100 channels in the US, 8 in Canada, and 13 in Spain. A VPN masks your device's location so you can watch whatever content you want, even if a particular game is restricted to a different region!
I tested 25 VPNs to find the top 3 for streaming fuboTV from anywhere. If you want to know which is the best, ExpressVPN has super fast speeds and smooth streaming to catch every game-changing play. Plus, you can try ExpressVPN risk-free for 30 days with its money-back guarantee and combine it with fuboTV's 7-day free trial!
Watch fuboTV from anywhere with ExpressVPN
Quick Guide: 3 Easy Steps to Unblock fuboTV From Abroad
Get a VPN. I recommend you ExpressVPN as it has super fast servers that can unblock fuboTV. Try ExpressVPN risk-free with its 30-day money-back guarantee.
Connect to a server in the US, Canada, or Spain. This gives you an IP address in one of the countries where fuboTV is available.
Start watching fuboTV! Log into your fuboTV account, turn to your favorite channel, and watch live sports and TV shows from anywhere.
Try ExpressVPN risk-free today
Why You Need a VPN to Watch fuboTV From Other Countries
Due to broadcasting rights and copyright regulations, fuboTV is only available in the US, Canada, and Spain. fuboTV uses advanced technology to identify your location and block access if you're outside of its service area — stopping you from watching its sports, entertainment, or news channels. Then you'll only get this annoying error whenever you try to log on:
We're sorry. fuboTV content is currently not available in your location.
To get around fuboTV's content blocks, a Virtual Private Network (VPN) gives you a different IP address. Your data is also encrypted so websites and other third-parties can't see your real location or your online activity. No matter where in the world you are, you can connect to a VPN server in a fuboTV region and watch NBA TV, CBS, or any of its other available channels.
While Canada and Spain also have access to fuboTV, I recommend that you use a US server to have the most content options.
Unblock fuboTV with ExpressVPN now
3 Best VPNs for fuboTV in July 2022
ExpressVPN — Consistently fast servers that connect you to the game from anywhere and offer high-quality streaming.
CyberGhost — Optimized servers reliably connect to fuboTV, but the interface has a slightly clunky layout.
Private Internet Access (PIA) — Encrypts your WiFi to safely watch fuboTV on public networks, but is located in a Five Eyes surveillance country.
3 Best VPNs for Watching fuboTV From Anywhere in July 2022
Key Features:
3,000+ servers in 90+ countries — 26 server locations in the US, 5 in Canada, 2 in Spain
Built-in speed test to find the fastest servers for watching fuboTV
Connect up to 5 devices simultaneously
24/7 live chat and customer support
30-day money-back guarantee
ExpressVPN has fast servers across the globe that make it easy to stream fuboTV without any buffering. As the US has the biggest fuboTV content library, I tested 15 of the 26 US locations and had an average speed of 31Mbps — just 4Mbps slower than my base speed. To stream in 4K video quality, a minimum speed of 25Mbps is recommended. I performed the same tests for every server in Canada and Spain. Across the US, Spain, and Canada, I ended up with average speeds of over 41Mbps. I loved that even the slowest ExpressVPN server was barely any slower than my average speeds (almost 30Mbps) during testing and was over 4,300 miles from me!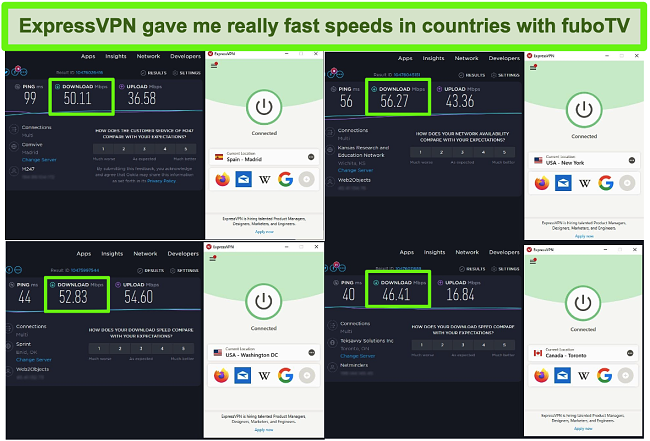 ExpressVPN's Speed Test feature is really useful for choosing the fastest server in a particular location. It takes about a minute to run for each location and gives you information on latency (how long the server takes to respond) and download speeds. With this information, it's easy to pick the best server for watching fuboTV.
With ExpressVPN, I had zero buffering or lag while I was live streaming fuboTV. Its fast speeds meant my streams were always smooth and started quickly.
You can also try ExpressVPN risk-free with it's "no questions asked" money-back guarantee. As long as you contact customer support and cancel your subscription within 30 days, you'll get a full refund. I reached out via 24/7 live chat and my refund was processed right away with no questions asked. I had the money back in my bank account in just 5 business days.
ExpressVPN also unblocks: Sling TV, YouTube TV, ESPN, DAZN, Fox Sports, beIN Sports, BT Sports, NBC Sports, BBC Sport, Sky Go, AT&T TV, BBC iPlayer, Amazon Prime Video, Netflix, Disney+, Hulu, HBO NOW, and more.
ExpressVPN works on: Windows, Android, macOS, iOS, Linux, routers, Chromebook, Chrome, Kindle Fire, Firefox, PlayStation, Xbox, Nintendo Switch, Apple TV, and Amazon Fire TV & Stick.
Try ExpressVPN for free for 30 days
Key Features:
6,200+ servers in 80+ countries — 1,100+ in the US, 240+ in Canada, 65+ in Spain
Optimized sports streaming servers to watch fuboTV content
Supports up to 7 devices
24/7 live chat available on the website
45-day money-back guarantee
CyberGhost's optimized streaming servers easily get you connected to 100+ of fuboTV channels. While there isn't a specific server for fuboTV, CyberGhost has optimized servers for fuboTV channels like CBS, ESPN, Fox, Comedy Central, and NBC that still give you access to the same content. After connecting to an optimized server, just head to the channel's website and log in with your fuboTV account to watch your favorite sports and TV.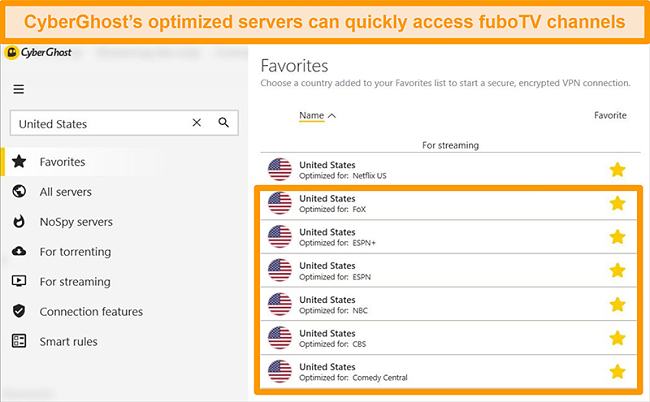 My average optimized speed was just over 28Mbps for US servers — this is fast enough to live stream an NBA game in UltraHD quality. In Canada and Spain, there are no optimized servers for fuboTV channels, so I tested standard servers. The fastest server in Canada was 25Mbps and 21Mbps in Spain. In all 3 countries, I was able to watch fuboTV without any buffering.
During my tests, I found that if CyberGhost doesn't have an optimized server for the channel I wanted, I could choose the fastest standard server by selecting my country of choice and then sorting by "Load." Then I'd connect to the server with the lowest "Load" and "Ping" — this always gave me reliable and lag-free fuboTV streams.
If you want to try CyberGhost for free for 45 days, you can get a full refund as long as you cancel before the 45 days are up.
CyberGhost also unblocks: Sling TV, YouTube TV, ESPN, Fox Sports, Netflix, Disney+, Amazon Prime Video, NBC, BBC iPlayer, and more.
CyberGhost works on: Windows, Android, macOS, iOS, Linux, routers, Chromebook, Chrome, Firefox, Apple TV, and Amazon Fire TV & Stick.
Try CyberGhost for free for 45 days
Key Features:
12,500+ servers in 70+ countries — 6,400+ in the US, 1,200+ in Canada, 120+ in Spain
WiFi protection
Supports up to 10 devices
24/7 live chat available on the website
30-day money-back guarantee
Private Internet Access (PIA) gives you extra WiFi protection so you can safely stream fuboTV even on public and shared networks. Since these are popular targets for hackers, I feel better knowing that I don't have to worry when I meet up with friends or family to watch a game on a public network.
With the ability to use multiple VPN protocols, PIA gives you a good balance between speeds, security, and unblocking capabilities. This means you won't have to worry about sacrificing streaming quality over protecting your device when you watch fuboTV.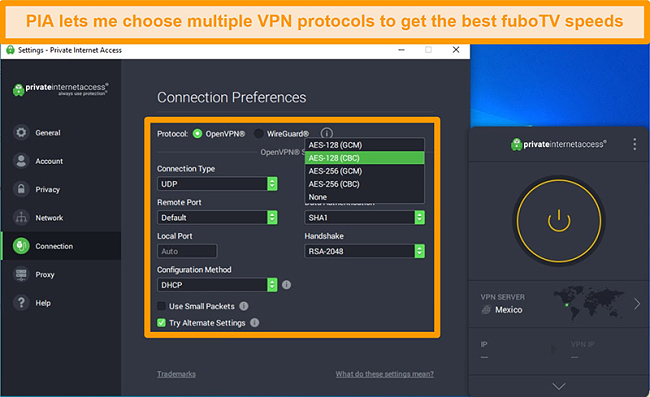 If you want to try PIA, it has a 30-day money-back guarantee. FuboTV also has its own 7-day trial, so you can download both to try them for free for a week. If you decide not to continue with the subscriptions, just cancel them within 3 days for a full refund.
PIA also unblocks: ESPN, Fox Sports, Netflix, Disney+, Amazon Prime Video, YouTube TV, and more.
PIA works on: Windows, Android, macOS, iOS, Linux, routers, Chromebook, Chrome, and Firefox.
How to Find the Best VPN for fuboTV
When I tested dozens of different providers, most couldn't unblock fuboTV at all and others didn't have fast enough servers. For the best streaming experience, you need a VPN that has:
A large network of reliable servers in the US that instantly unblock fuboTV
A no-logs policy to preserve your data privacy
Simultaneous connections to watch fuboTV on multiple devices at once
24/7 live chat support for help whenever you need it
A 30-day or longer money-back guarantee for maximum flexibility
Why You Can't Use a Free VPN With fuboTV
You can use a free VPN to watch fuboTV, but I wouldn't recommend it if you want the best possible streaming experience.
When I tried testing some of the best free VPNs, most of them failed to work with fuboTV. This is because free VPNs have limited encryption technology, which means they're usually unable to get around fuboTV's content blocks or keep your personal data secure. Combined with small server numbers, you'll struggle to get connected at all. If you do, you'll find stream quality is bad because your connection is deliberately slowed down.
Not only will your show be interrupted while using a free VPN, but you could be compromising your data security too. Some free VPNs are known to log user data (despite promising not to) and sell the information to third-parties, like advertisers.
The best way to securely watch fuboTV is by using a quality VPN. Every VPN on my list has a money-back guarantee — you can try ExpressVPN risk-free for 30 days and combine it with fuboTV's 7-day free trial. Just contact customer service through its 24/7 live chat to ask to cancel your account. Although an agent may try to troubleshoot any issues, all you have to say is you don't need the service anymore. Then your refund will be processed immediately. I tested this for myself and got my money back within a week.
Try ExpressVPN risk-free for 30 days
FAQs About Watching fuboTV with a VPN
Which devices work with fuboTV?
You can watch fuboTV from your browser (Chrome, Firefox, or Safari) or you can download the fuboTV app to your compatible device. Check out the table below to see all fuboTV compatible devices — and which of my top VPNs have apps for the same devices.
| | | | |
| --- | --- | --- | --- |
| | ExpressVPN | CyberGhost | PIA |
| Amazon Fire TV | ✔ | ✔ | ✔ |
| Android mobile | ✔ | ✔ | ✔ |
| Android TV | ✔ | ✔ | ✔ |
| Apple TV | Х | Х | ✔ |
| Chromecast | Х | Х | Х |
| iOS | ✔ | ✔ | ✔ |
| Roku | Х | Х | ✔ |
| Samsung Smart TVs | ✔ | ✔ | ✔ |
Every VPN on this list can be installed on compatible routers. If your device doesn't have a VPN app, you can encrypt your connection and watch fuboTV that way instead!
Does fuboTV require a specific zip code to unblock certain games?
Games with regional restrictions won't play in all zip codes. To unblock a game that plays on a channel in another city, just sign into your fuboTV account and change your zip code in your settings. This will unblock the sports channels that are available for the zip code you enter.
What can I watch on fuboTV?
fuboTV started as a sports streaming service and that's what it still does best — bringing you content from the NBA, Major League Baseball, NFL, the Olympics (including the Winter games), the FIFA World Cup, and more.
Since its creation, fuboTV has expanded to include entertainment and news channels. Some of its most popular channels include:
| | | |
| --- | --- | --- |
| Sports Channels | News Channels | Entertainment Channels |
| Fox Sports | CNN | FOX |
| NBC Sports | Fox News | TBS |
| NBA TV | MSNBC | BBC America |
| NFL Network | CBSN | AMC |
| CBS Sports Network | CNN International | NBC |
| NFL Red Zone | CNBC World | Bravo |
| bein Sports | | Food Network |
| NBC Golf | | A&E |
fuboTV based in the US has the biggest number of channels, with 100+ to choose from (and local channels, depending on your location). It has 3 subscription plans to choose from and 2 of those each come with a 7-day free trial of the service.
fuboTV in Canada has 8 channels with one subscription option, including Benfica TV, Fight Network, and Game.tv. Spain also only has one subscription plan and 13 channels that include Antena 3, Atreseries, Neox, and TVE Catalunya. If you want to find out what channels and shows fuboTV offers, you can combine its 7-day trial with ExpressVPN's 30-day money-back guarantee to try both for free if you cancel both within 7 days!
Try ExpressVPN risk-free for 30 days
What else can I do with a VPN?
Not only can you stream fuboTV from anywhere, but you can also watch regional games affected by broadcasting blackouts and catch up with worldwide events like the Fifa World Cup, Six Nations Rugby, and the Olympic games.
If you want to watch even more sports content, a VPN can give you access to ESPN, DAZN, and BBC Sport. You're not just limited to sports though, you can also unblock the most popular streaming services like Netflix, Disney+, Hulu, and Amazon Prime Video.
A VPN can also keep your internet connection secure and your browsing anonymous. When you use one of the VPNs on this list, you can be sure your online activity won't be monitored or logged by your ISP, advertisers, or malicious third-parties. The best VPNs for Windows also have top-grade encryption to protect you online and get you past location blocks and straight to the content you want.
Don't Miss Out When You Can Watch fuboTV From Anywhere
Whether you want to keep up with the latest NFL touchdowns or hit drama series on AMC, fuboTV has it all — and you can watch it from anywhere with a quality VPN.
Content restrictions are frustrating, especially when you've already paid for your streaming service. By using a reliable VPN, you can enjoy your subscription to fuboTV no matter where you are. If you want to expand your channel selection to include other fuboTV service areas, a VPN can connect you to those countries.
If you aren't sure which one to choose, I really like ExpressVPN for its fast and smooth live streaming, so I never miss a big moment during a live game on fuboTV. You can try it for 30 days risk-free with its money-back guarantee.
Try ExpressVPN risk-free for 30 days
---
Summary: These Are the Best VPNs for fuboTV in 2022
Top Choice