BullGuard Antivirus Review 2021: Is It Worth the Hype?
Bullguard Overview January 2021
BullGuard has long been known as the best antivirus for gamers, but I wanted to see how well it performed for regular users too. As a result, my team and I put it through rigorous testing on Windows, Mac, and Android.
In tests, BullGuard achieved impressive malware detection rates. I was also pleasantly surprised by its fast virus scans and performance optimization tools. BullGuard's famous Game Booster feature didn't fail to deliver either — it even improved my PC's speeds while gaming!
However, I was disappointed by a few downsides. Not only was the customer support pretty dismal, but the Mac app has limited features and there's no iOS support whatsoever. No matter how powerful BullGuard's antivirus software is, this makes it fall slightly behind top competitors like Norton, TotalAV, and McAfee.
Despite these shortcomings, I still found BullGuard to be a solid and reliable antivirus package (especially for gaming). Best of all, you can use BullGuard's 30-day money-back guarantee to try it out on your own device. I easily got a full refund in 5 business days when I tested the process myself.
Try BullGuard for free for 30 days!
In a Rush? Here's a 1-Minute Summary
Security - 10
BullGuard's security features are top-quality with 100% malware detection rates for new and known online threats. Very few antivirus plans have a more comprehensive security suite than BullGuard.
Virus Scan — Impressively Fast and Accurate Scans
During tests, BullGuard's virus scans picked up 100% of malware discovered in the previous 4 weeks. This is impressive and on par with other top-tier antivirus plans. You can choose from 3 scanning options:
Quick Scan — Checks files and items in the areas most likely to be attacked by malware, like memory and C: drive
Full Scan — Examines your entire system for hidden malware but takes longer than the Quick Scan
Custom Scan — Choose which files, folders, and apps you want BullGuard to scan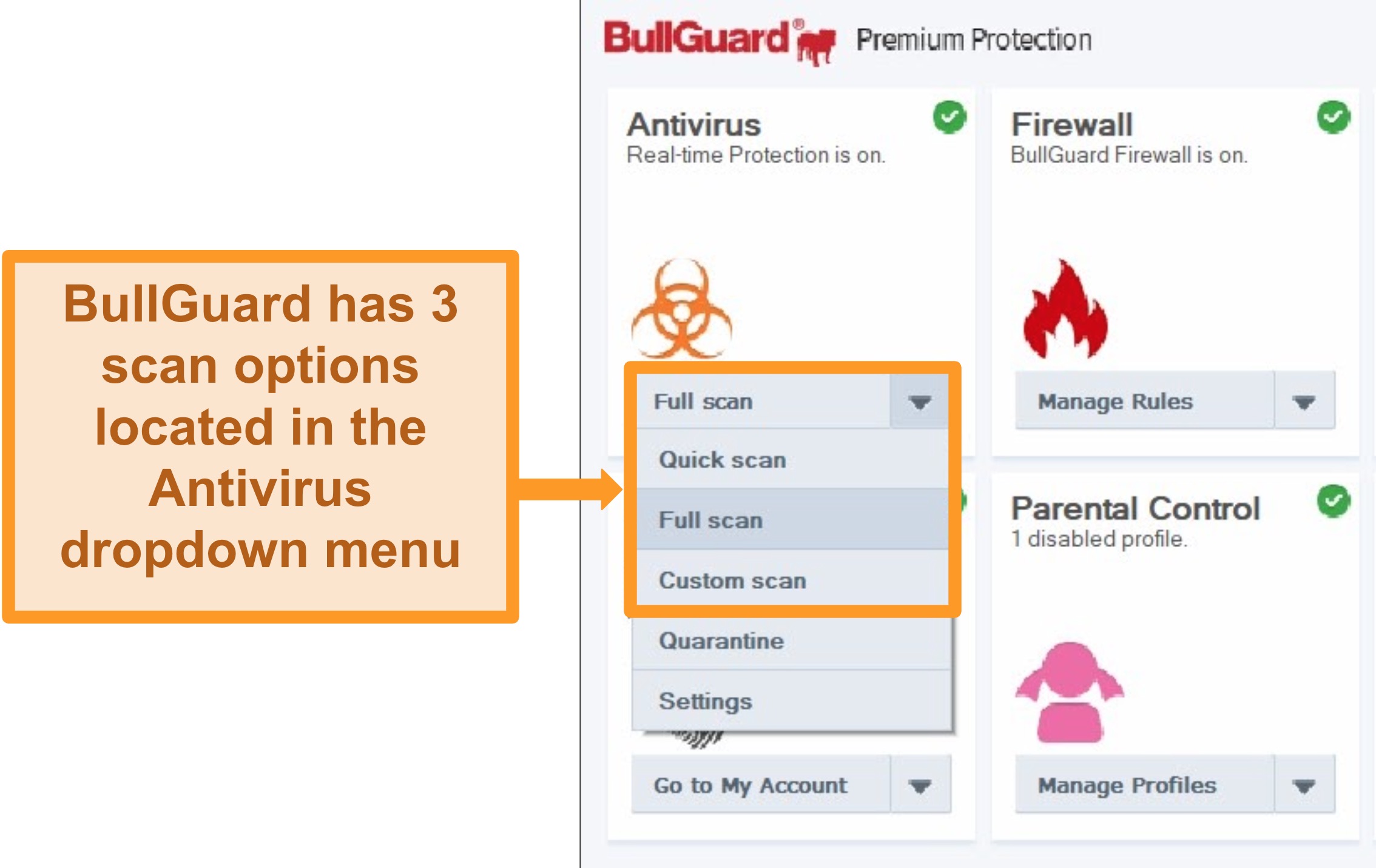 I was surprised by just how fast BullGuard's scanning is. The Full Scan took only 10 minutes to check nearly 900,000 items — even faster than Norton's full scan, which took 12 minutes for 780,000 items! I didn't notice any performance impact on my PC despite my CPU utilization jumping from 25% to 50% during the scan. I also ran a Quick Scan, which took only 11 seconds to complete and checked 472 items in my most frequently used files.
BullGuard's accuracy in scanning is top-quality. Some antivirus plans are very aggressive and falsely flag safe items as containing potentially malicious code. During my scans, BullGuard had zero false positives — for reference, the accepted industry standard is 15! This saved me time, as I didn't have to manually check files to see if they were safe or not.
It's inevitable that any antivirus program will slow your system a little bit, even if it's mostly during CPU-intensive scanning. I was pleased to find that BullGuard had a small impact on my overall device performance. There wasn't even any noticeable slowdown during scans; I could continue working, gaming, and browsing online without experiencing lag. I experienced speeds between 8-12% slower than normal — in line with what I'd expect from a high-quality antivirus service.
Real-Time Protection — Defends Against Zero-Day Attacks With Ease
Zero-day attacks are online threats that are so new, developers haven't had a chance to create defenses against them yet. This is why it's so important to have an antivirus package that effectively detects and neutralizes these threats before they can attack your devices. BullGuard excels in real-time protection, detecting 100% of zero-day malware, ransomware, spyware, and more. This really impressed me, as the industry standard is closer to a 97% detection rate.
BullGuard's effectiveness comes from a combination of advanced security technologies, including:
Dynamic Machine Learning — Monitors new and emerging threats alongside your device's behavior to learn and improve from experiences by itself
Sentry Behavioral Engine — Detects known malware behaviors efficiently to block destructive code from attacking your devices
Signature-based Detection — Analyzes known and new software signatures for signs of malware
The combination of these tools means BullGuard is able to analyze and detect potential malware before it's widely recognized as a threat. This means BullGuard is always ready to protect you from the newest online attacks. I found that I was effectively secured against malware when I tried to access test sites and download test files containing threats — BullGuard blocked every attempt.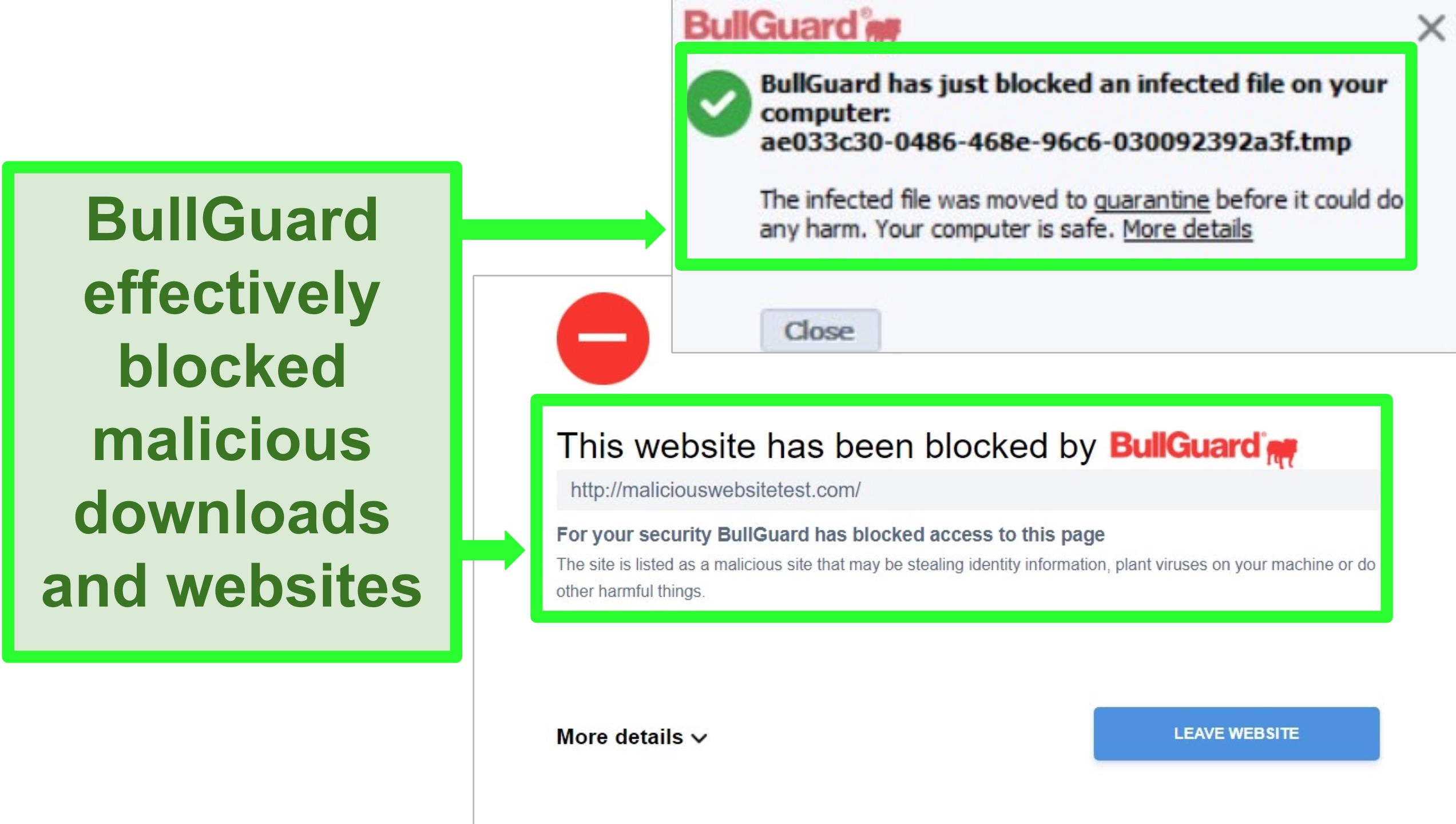 Firewall and Network Scanner — Blocks Unwanted Access From Third Parties
A good firewall is designed to stop malware and unwanted connections from accessing and compromising your devices. BullGuard's firewall is a great choice for both new and experienced users, as it provides top-notch protection without any manual configuration but is also ready to customize if you're a tech-savvy customer.
What I especially liked about the firewall is that it wasn't a huge drain on my computer's resources. Many firewalls require a lot of processing power to keep them active and vigilant, but BullGuard's is lightweight and won't slow down your device.
What I don't like is that the firewall asks you about every process it doesn't recognize, which can lead to multiple pop-up notifications. A service like Bitdefender has a more intelligent firewall that is better equipped to make judgments about unrecognized access.
The Home Network Scanner is a nice complement to the firewall as it lets you see which devices are using your network. You can use it to check that connected devices are secure, as well as the security of the network itself. I especially like that you can opt in to receive notifications when a new device connects to the network and, if you want to, block the device manually. You're can also add more than 1 network to the list — for example, if you take your computer between your home and the office — to ensure security wherever you connect.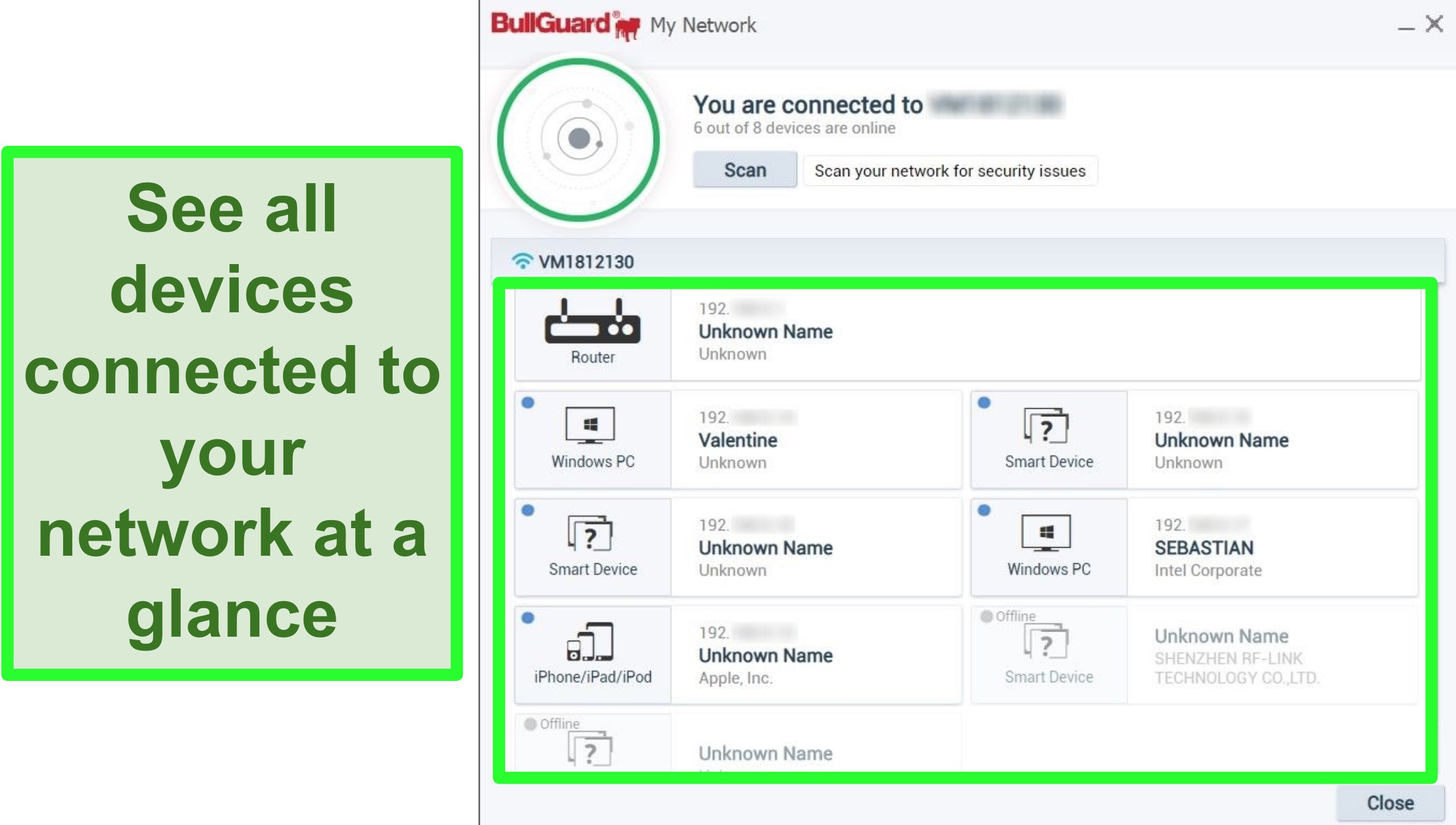 Vulnerability Scanner — Keeps Your Device Secure and Up-to-Date
This feature checks your operating system and installed apps for vulnerabilities. A vulnerability could be that an app is missing a vital update or patch designed to prevent malware attacks. When I ran the scanner, I got a notification that my Windows OS was due for an update and was prompted to update immediately. I found this tool useful as it let me schedule regular scan times, keeping my apps and devices secure at all times.
Features - 9
BullGuard comes with a range of tools designed to improve device security and performance, including its famous Game Booster feature for hardcode games. The majority of its extra features are useful and work well, but I found the parental control options outdated compared to what competitors offer.
Game Booster — Noticeably Improves PC Performance While Gaming
BullGuard has long been the best antivirus for gamers, thanks to its Game Booster feature. It's automatically activated when you install the app and detects when you're running a game without any manual configuration. When it sees you're playing, the Game Booster diverts CPU power away from background apps and directs it to your game — so your games actually perform better with BullGuard running!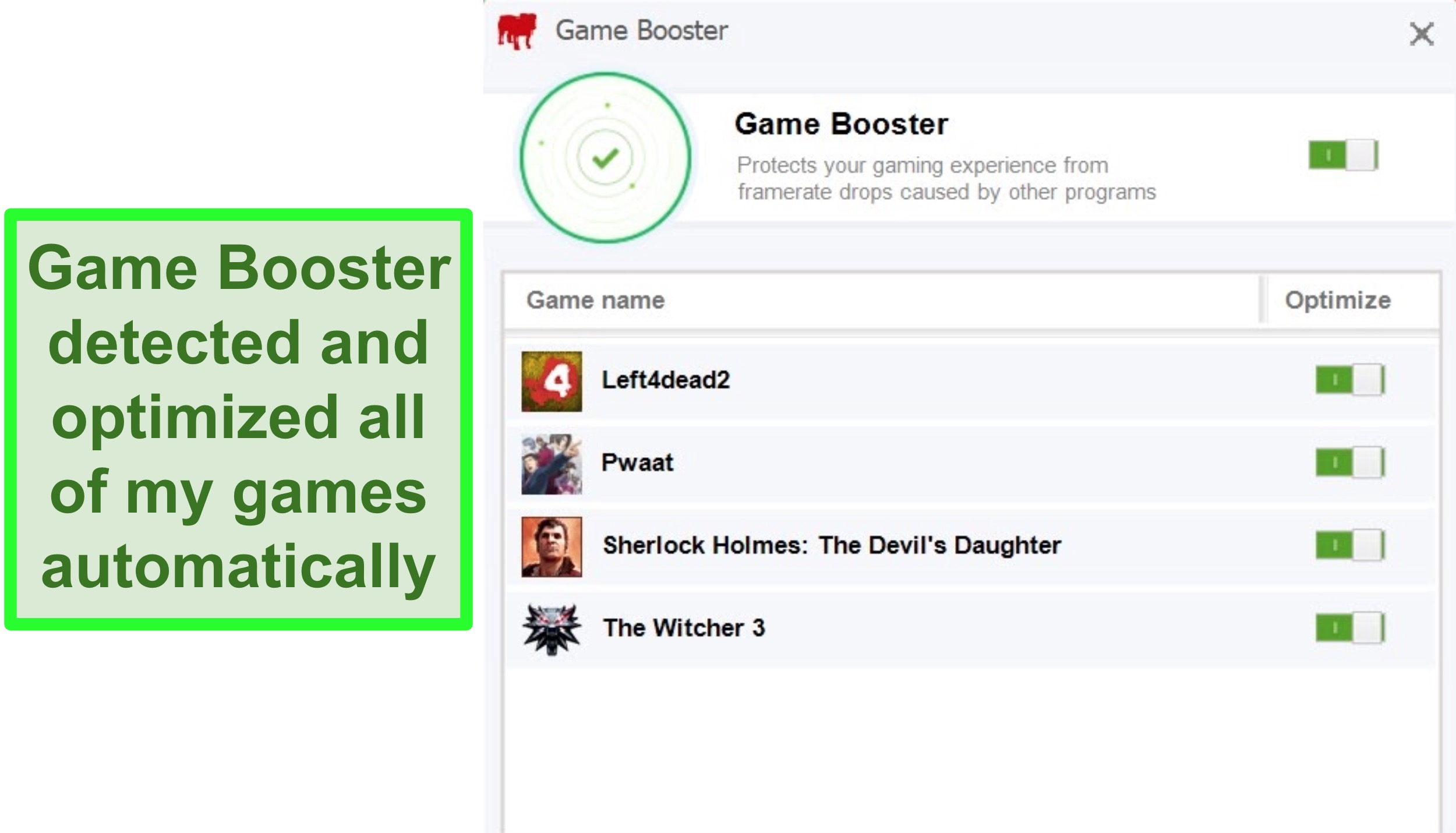 Even when using a high-performance gaming PC, I saw a noticeable improvement in framerate with the Game Booster active. Games loaded faster, were more responsive, and I didn't experience any annoying lag.
Best of all, I knew my PC was totally secure the whole time I was gaming. I didn't have to compromise my antivirus protection to play games. Many antivirus plans aren't optimized for video games and either must be disabled to play smoothly or inundate you with distracting notifications and alerts. I didn't get a single alert from BullGuard while gaming and found afterward that a potentially malicious file had been silently blocked and quarantined!
BullGuard VPN — Unblocks Restricted Sites but Not Worth the Extra Price
I was excited to see that BullGuard has a "Try VPN" button on its app interface but quickly discovered it's just a link to a different paid service. BullGuard's VPN isn't a part of any of its antivirus plans and must be purchased separately. But if you do purchase it, you can access it from the AV app.
The VPN is a collaboration between BullGuard and NordVPN, one of the best VPN services on the market. I expected fast speeds and the ability to access content blocked in my location, and I was right — my speeds with BullGuard were fast enough to stream movies, download torrents, and browse online without annoying lag or buffering. I could also watch shows on Netflix, Disney+, Hulu, and BBC iPlayer with ease, although I struggled to unblock Amazon Prime Video.
I was disappointed to find BullGuard's VPN only has servers in 16 countries (NordVPN is in 59 countries, for reference) and none in Africa, South America, or the Middle East. Like NordVPN, BullGuard VPN has a strict no-logs policy when you're connected to its servers so it won't store your activity. However, it does require you to sign up with your full name, email, and home address and BullGuard stores your payment details, too. It's not an entirely anonymous service, but none of your online activity can be traced back to you regardless.
While BullGuard VPN is a decent service, I don't think it's worth paying extra for. It lacks features I'd expect from a top-tier VPN such as ad-blocking and split tunneling, and is pretty expensive considering its limitations. I suggest you actually download the standalone NordVPN app instead. It has all the features I've just mentioned, plus thousands of server connections in 59+ countries. You can try NordVPN free for 30 days using its money-back guarantee.
PC Tune Up — Optimization Tools Improve Windows Performance
BullGuard has several useful tools designed to optimize your PC's performance quickly and easily. These include:
Optimize Tool — Checks for and erases unneeded background processes, invalid shortcuts, PUPs (potentially unwanted programs), and other similar items
Cleanup Helper — Scans your temporary files and folders, browser caches, and recycle bin to free up space on your device
Duplicate Files — Looks for duplicate files so you can remove them or organize them more efficiently
Boot Manager — Checks the programs that run on PC startup, analyzing how long they take so you can optimize your boot time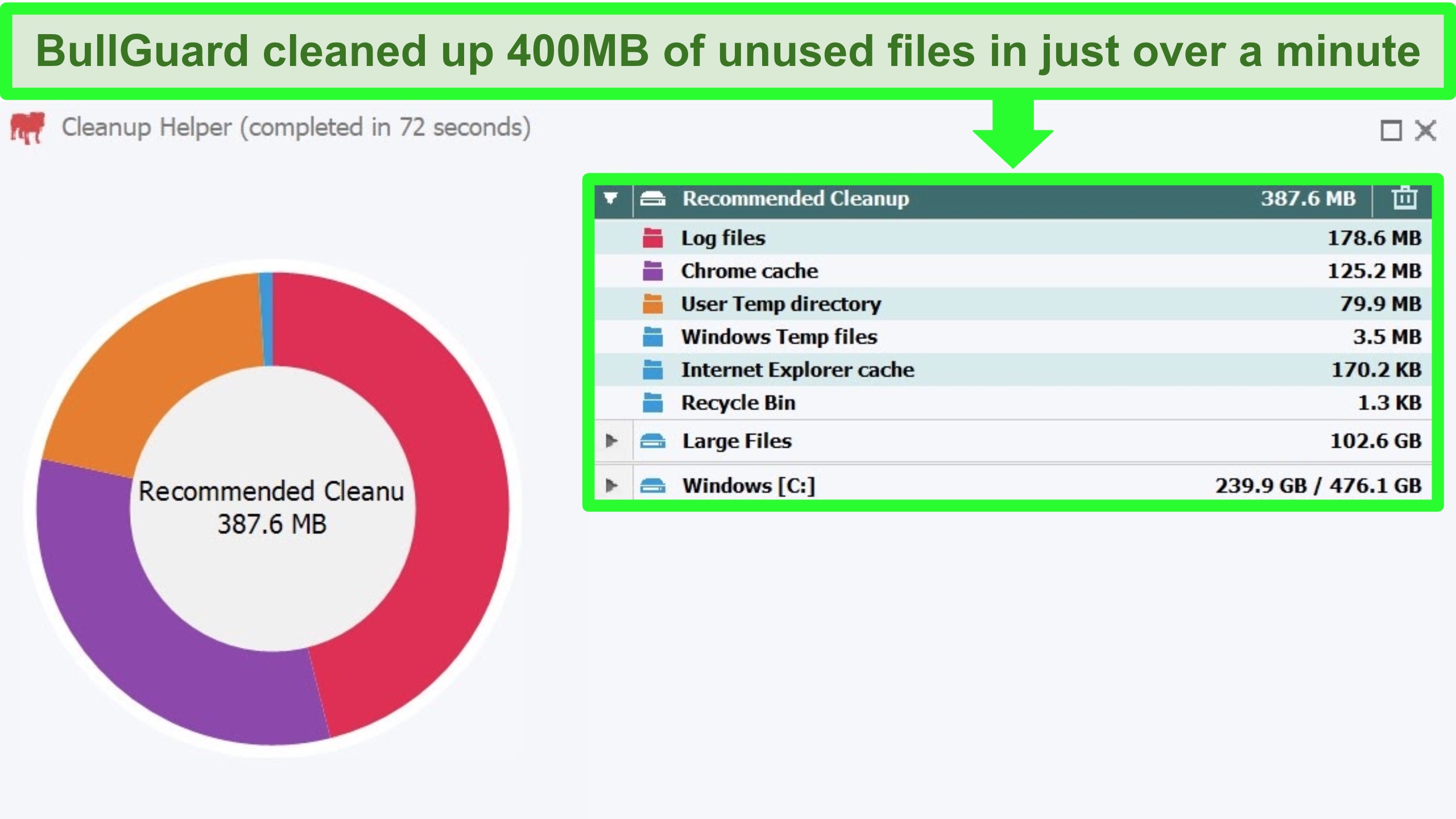 I used all of these tools on my Windows PC and was surprised by how effective they were. Overall, BullGuard's optimization tools freed up almost 1GB of space on my computer and took 5 seconds off of my boot time. Best of all, many of these optimizations take place in the background automatically so you don't have to worry about manually running the tools. That said, I'd like to see similar tools available on Mac, as I think they'd be useful for freeing up valuable space and improving startup time.
Parental Controls — Outdated Interface and Easy to Get Around Restrictions
I'm pleasantly surprised to see Parental Controls in-built in the BullGuard app rather than as an extra download, like the McAfee Safe Family feature. It's easy to set up filters to block access to adult content with 3 preset age ranges. Unfortunately, the parental controls are quite outdated. For example, AOL is on BullGuard's list of blocked messengers, even though it was deactivated in 2017!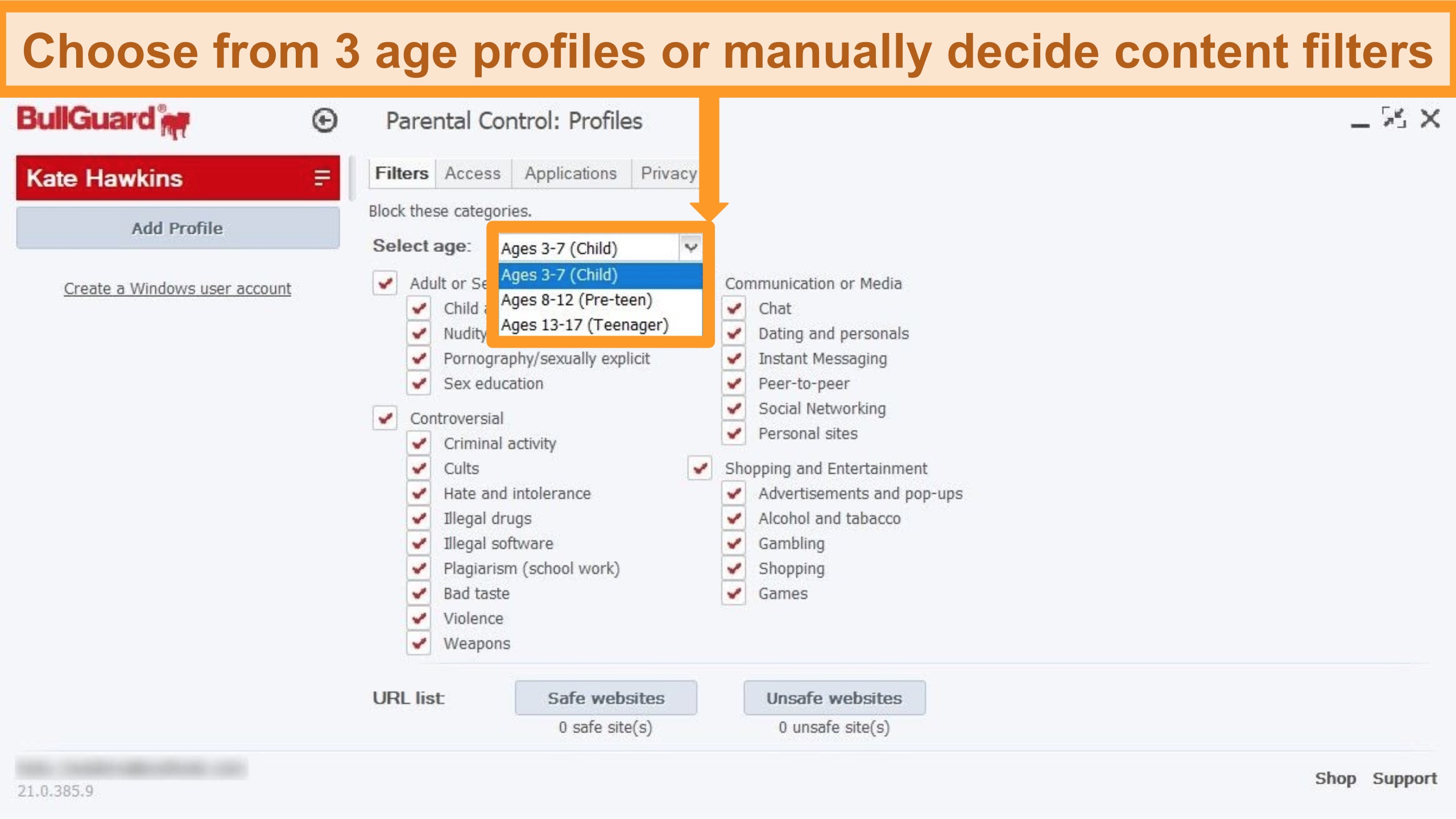 In addition, I didn't like how easy it is to get around some of the content blocks. For example, a parent can block confidential data, like email addresses and phone numbers, from being entered into online forms or sent via chat. However, I got around this just by formatting information in a different way. Instead of typing 555-123-4567, I could enter 5551234567 and BullGuard wouldn't block it. That being said, BullGuard's app blocking is much tougher and can't be bypassed so easily.
If you really need Parental Control options with your antivirus, I'd recommend looking at a service with more updated features. Norton's parental controls have location tracking and app blocking for mobile devices, plus web content filtering, video monitoring, and downtime scheduling for your kids' devices.
Secure Browser — Good for Online Banking and Shopping
BullGuard's Secure Browser helps keep your online banking and shopping secure by checking the site certificate and validity, DNS encryption, and cloud security.
It also forces HTTPS connections, which are more secure than the standard HTTP connections. All sites are checked against BullGuard's database and access is blocked to any sites deemed previously unsafe. You'll also find there are no cookies or browser extensions for the Secure Browser to reduce the chance of a data leak.
During testing, the Secure Browser blocked sites hosting malware, phishing scams, and diverted websites to HTTPS where possible — performing exactly as it was meant to so that my data and activity were safe and secure.