Airo

Review 2022: Top Mac Antivirus or Seriously Overhyped?
Airo Overview August 2022
Airo has excellent malware detection rates and is an incredibly well-designed Mac app — but that's pretty much it. Aside from the virus scanner and user interface, I wasn't too impressed with the inconsistent performance of the rest of its features.
There are easily more powerful antivirus brands for Mac that you can rely on. For instance, Intego identified and removed 100% of malware during my tests and it comes with advanced features like a firewall, parental controls, and Mac optimization tools. As someone who values security and online privacy, I find it reassuring to know that my private files and data completely secure on my Mac.
If you only need a little extra protection for your Mac, Airo might be the right antivirus for you. You can try Airo completely for free, so there's no harm if you want to try its features out for yourself.
In a Rush? Here's a 1-Minute Summary
Security - 8
For a free antivirus, Airo scored very well during testing. It detected 100% of the different malware that was planted on my test device — including viruses, worms, and trojans. However, it's a very basic scanner and doesn't have common features (like scan scheduling and customizing protection level) present in more popular brands.
Virus Scan — Easily Detects and Removes 100% of Viruses
Impressively, Airo had a perfect score in terms of detecting and removing the latest virus threats — including adware, crypto malware, spyware, and ransomware. My team and I set up a testing computer and infected it with 145+ pieces of malware discovered in the last 4 months. Airo managed to remove 100% of these viruses, and this included some that are really difficult to detect (like Trojans).
Even some popular paid antivirus services like Avira Antivirus Pro weren't able to achieve this (the industry average is 99%). You can feel secure knowing that Airo is capable of detecting the toughest and latest malware.
Additionally, Airo's false positive rate was 0 during testing. Some other antivirus software can be overly sensitive and will incorrectly identify safe files as dangerous. This wasn't an issue for Airo, so you won't have to worry about accidentally deleting important files that were actually not harmful.
I also liked that Airo offers a full scan or quick scan option. The full scan is meant to look through all files on your Mac to give it a thorough check. However, Airo only scanned 600,000+ of my files. When I used Intego's full scan mode, it analyzed over 1.7 million files — a significant improvement over Airo. When I contacted Airo's customer support about the issue, they were unable to give me an answer about why so many files were left unchecked.
Given that significantly fewer files were analyzed, I assumed Airo would be faster than other antivirus programs. Unfortunately, Airo was very slow and took 3 hours to complete a full scan. For comparison, Intego scanned 1.7+ million files in 30 minutes. I was expecting more from Airo, but I would say this timing is still reasonable for a newer service.
The quick scan option is useful when you just want to quickly check the areas of your Mac that are most susceptible to infection. Fortunately, Airo managed to scan 18,000+ files during testing and it was extremely fast — it took less than a minute! However, this was also a lot less than the 50,000+ files that Intego's quick scan checked. As a result, I'm not sure if Airo thoroughly checked my system or not.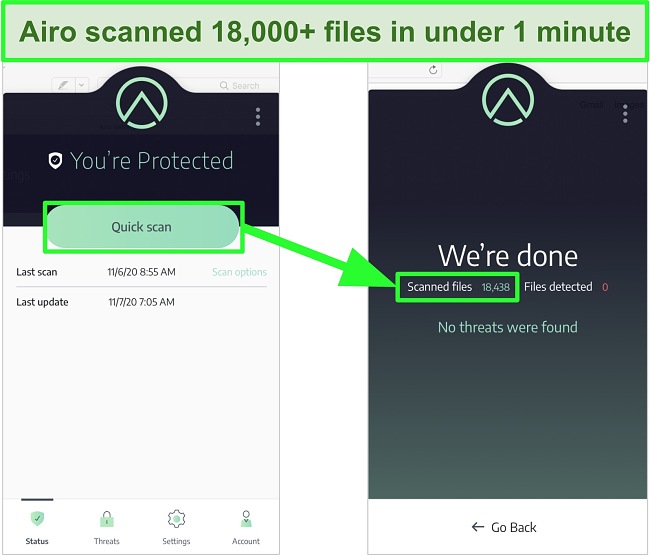 Real-Time Virus Scanning — Gives Your Mac 24/7 Protection
Airo's real-time virus scanning works at all times to protect your computer from new files that contain malware. Every time you try to download something new, Airo will analyze it to see if it's safe. Airo uses advanced artificial intelligence technology to remain up-to-date about the latest malware. This means the software actually learns from existing patterns in harmful code. It then uses this knowledge to detect new threats that haven't already been identified. This is a really powerful way to keep your computer safe from the latest viruses. It also means new malware can be detected early before it can do real harm to many computers and peoples' lives.
I was impressed with Airo's real-time scanning because it successfully protected me from a dangerous test file I downloaded. I received a pop-up from the Airo icon on the menu bar telling me there's a threat.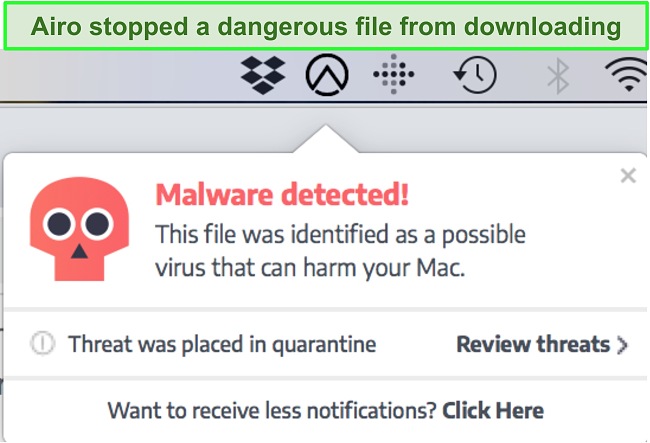 Airo immediately placed the file in quarantine so that it wouldn't be able to infect other parts of my Mac. I was then given the option of either keeping or deleting the file from my system. I felt more secure knowing that Airo was always scanning anything I downloaded. This also made things more convenient as I didn't have to keep running my own manual quick scans every time I downloaded something.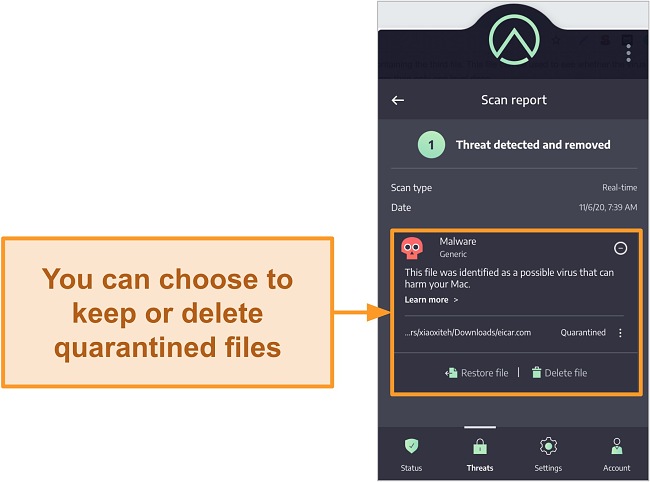 There is also the option to customize whether you want the real-time scanner to block adware, scareware, or suspicious files. I would recommend always leaving it on as it's important to protect yourself from all kinds of threats.
Cloud Protection — Help Make Airo More Effective With Cloud Protection
Airo's cloud protection feature gathers samples of data from its users for analysis. It helps the company identify any new or emerging threats and also prevent false positives. The function can be activated through the app's settings page, and it's not automatically enabled because of privacy reasons.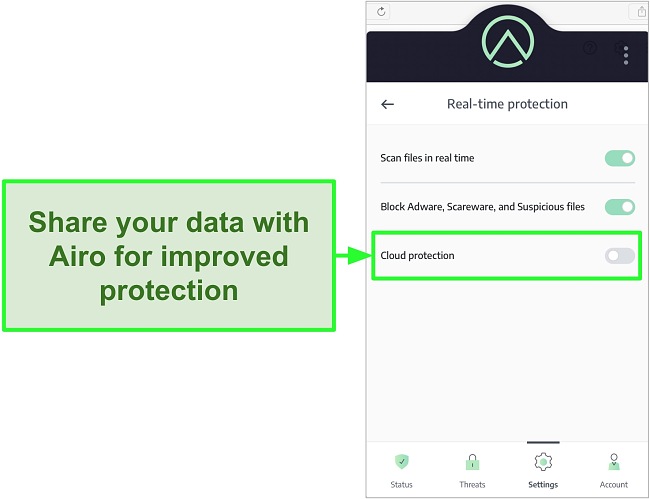 I understand the company's need to keep improving its technology, but I was skeptical about this feature. There have been many cases where software companies have abused their users' private information. The one thing I appreciate is that this setting is turned off by default and you have to opt in to use it. If you're a privacy-conscious person, it would be better to leave this function off. However, if you would like to help improve Airo's performance, you may find it useful to activate cloud protection.
System Performance — Airo Is Extremely Lightweight With Little Impact on Speed
Real-time scanners working in the background are often a resource drain. To test Airo out on my MacBook, I tried downloading, installing, and launching different applications multiple times. In addition, I calculated how fast it would take to transfer files to an external drive. Here were Airo's results in comparison to other antivirus software:
| | | |
| --- | --- | --- |
| | Airo slowdown | Industry average slowdown |
| Application download | 5% | 1% |
| Application installation | 10% | 11% |
| Application launch | 2% | 3% |
| File transfers from Mac to an external drive | 1% | 6% |
As you can see in the table above, Airo's performance demands are in line with industry averages. However, I did see some slowdown in application download times compared to other antivirus software. That said, you probably won't notice any significant drop in your Mac's speed while Airo is installed.
Features - 3
Airo offers a handful of features in addition to its core antivirus function, including a browser extension and VPN. Not every feature worked as promised, so you'll get more value from other antivirus programs like Intego and Total AV that have many bonus features. This includes useful tools like parental controls and a network firewall.
Airo Web Protection — Stops You From Entering Websites With Malware
The web protection feature is supposed to block you from harmful websites that could be hosting malware. However, it's not part of the antivirus program and you have to download it separately as an extension for your Safari or Chrome browser. You can also customize the type of malware you'd like to block, but it's good to leave all of them on to be safe.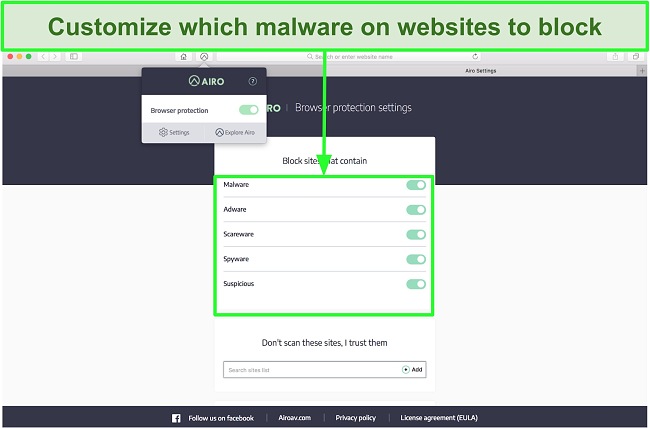 I was keen to see how well this feature would work because some web pages with malware can look like completely normal sites. There's no way to tell if they're legitimate by the way they appear or looking at the URL — even domains with "https" can host malware.
When I tested it on a website with adware, Airo blocked me from entering and sent me a warning message. I immediately went back to the previous secure page to avoid potentially infecting my Mac with malware. I felt a lot safer with the web protection feature activated, as I didn't have to worry about a web page secretly loading a virus on my computer.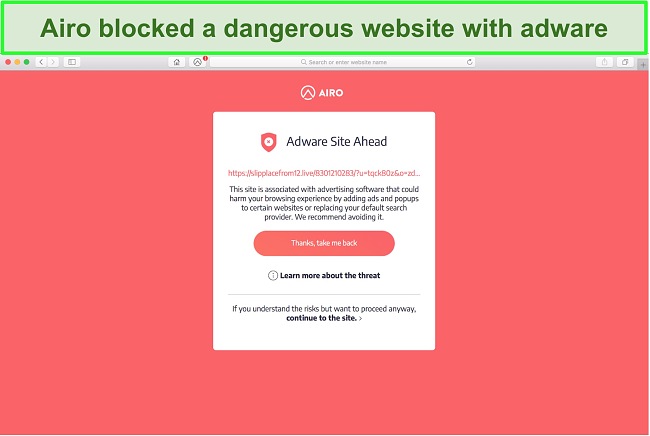 Just like the desktop app, Airo's mobile app is supposed to block harmful websites. Unfortunately, the iPhone app's web protection function didn't work for me when I tested it. I tried entering the same phishing website that the desktop app had blocked but the mobile app didn't have any pop-up indicating it was harmful. Based on my experience, I wouldn't trust Airo's web protection feature to keep your iPhone safe from malware and phishing threats.
VPN — Keeps Your Online Data Private
Airo's VPN feature on the mobile app makes your online traffic anonymous by hiding your IP address and anything you do online. If anyone (including hackers or the government) wanted to see which websites you're visiting or what you're buying online, all they would see is a string of unreadable code.
Airo allows you to connect to servers in 9 different countries, including popular ones like the US, UK, Canada, France, and Germany. It also doesn't have any data cap which many other free VPNs implement. I conducted an IP test, and it showed that Airo successfully masked my real location in Australia by assigning me a US IP address.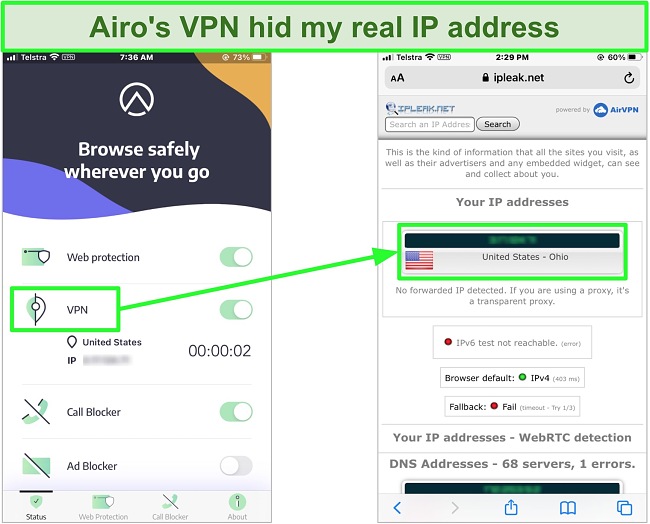 However, I couldn't access my Netflix US and Disney+ accounts while connected to the US server. I was disappointed with this because I easily connected to multiple streaming services with Norton 360's Secure VPN, including Netflix.
Overall, I would say Airo's VPN is best suited for keeping your daily web surfing private because it doesn't have any data restrictions. However, don't expect to use it for more sophisticated functions like unblocking streaming websites.
Ad Blocker (Mobile Only) — Doesn't Remove Ads From All Websites
Airo's mobile ad blocker works but performs inconsistently. It managed to block ads on 4 of the 5 websites I tried it on. Impressively, it managed to block ads on websites like the Orlando Sentinel and Daily Mail which are known to have aggressive advertising.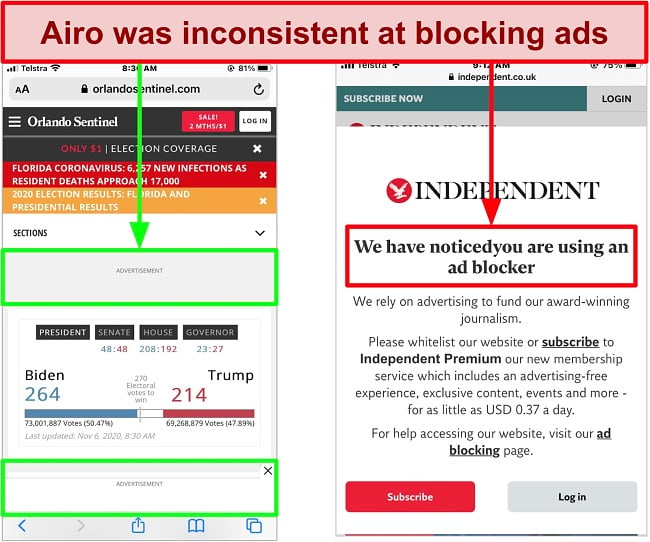 However, Airo was detected on The Independent's website and there was a pop-up asking me to disable it. It's not the best ad blocker I've seen — some other free ad blockers can even stop YouTube video ads. If you're looking for something that's more consistent, try one of my recommended ad blockers instead.
Call Blocking (Mobile Only) — Protect Yourself From Annoying Spam Calls
I wasn't impressed with Airo's mobile call blocking feature because it does the same thing as the iPhone's built-in call-blocking function. The only special feature is that you can see a whole list of your blocked contacts at the same time — but that's about it. I couldn't think of any situation where anyone would need to use this feature regularly.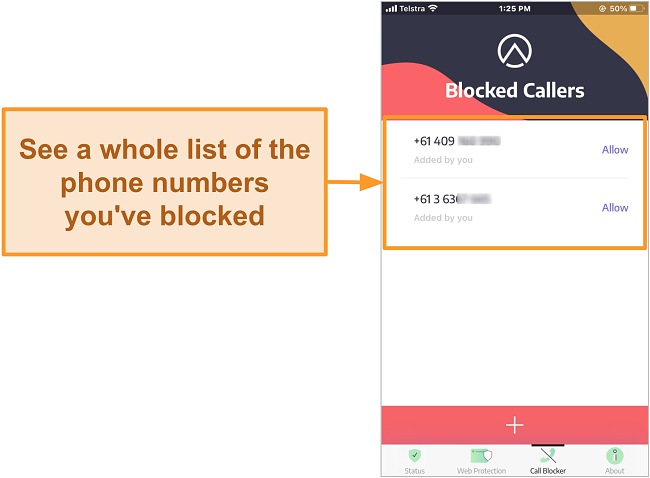 Try Airo's mobile app for free!
Ease Of Use - 9
Dedicated Apps — Simple Interfaces for Mac and iOS
The desktop and mobile apps have one of the best user interfaces I've seen. Its extremely streamlined and easy to navigate.
Airo's app for iPhone and iPads isn't too bad either. Airo offers a mobile security app with online security features like a VPN, ad blocker, and protection from websites hosting malware. It also has a call-blocking feature to stop you from receiving spam calls. Note that these features are only available on the mobile app and not on the desktop version. Overall, I was most pleased with the ad-blocking feature. The rest of the functions were disappointing because they either didn't work well or can't compare with the performance of competing apps.
While useful, it's important to keep in mind Airo isn't actually a "real" iOS antivirus app. In fact, Apple doesn't allow any antivirus programs on the App Store because it states that the OS is secure enough on its own. But if you really want to scan your iPhone for viruses like you would on your Mac, there is a way you can do it using Airo. All you need to do is connect your iPhone (or any other device) to your Mac. After that, select the "scan external devices when connected" under "scanning option" in settings and simply perform a scan as usual.
Support - 1
Airo does not provide as many support options as other antivirus services but their single support channel is fast and helpful.
Email Support — Quick and Useful Responses to Simple Questions
I was initially surprised that Airo only offers email support, as many other antivirus services provide multiple avenues for customers to get information. This includes live chat, phone support, and online knowledge bases that contain troubleshooting articles.
So when I saw that I could only get help through email, I wasn't expecting it to be very helpful. To my surprise, I got really fast responses (within 10 minutes!) to my questions and the staff managed to give me accurate information for most queries. I asked about what the cloud protection feature does and received a clear answer that was easy to understand.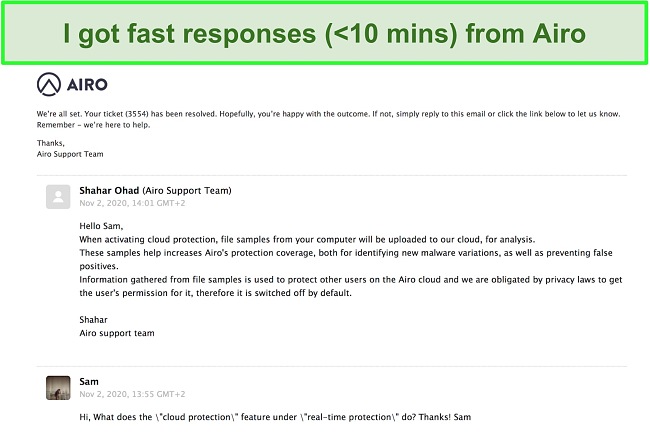 Unfortunately, the support rep wasn't able to answer my question about why Airo only scanned 600,000+ files in the full scan. She responded by saying that the range is appropriate and had no explanation for why it functioned like that. I got the impression Airo's staff aren't trained to respond to more technical problems, so don't expect much help if you're experiencing difficult software issues.
I've contacted them over several days about other issues and the replies were always quick and useful. The person I emailed also mentioned that they will respond 7 days a week and within a few hours. Overall, I would say I had a good experience with Airo's support staff even though there was only 1 way to contact them.
Price - 10
Airo used to be a paid service, but now it's completely free to use. What annoyed me was that the website was unclear about whether it was a totally free service or not — it still had its 30-day money-back guarantee policy up on the FAQ page. Plus, it still uses the term "free trial" which suggests that it may become a paid service again in the future. To clarify this, I had to contact its customer service department to check if it's completely free or not (which I felt was a small inconvenience).
100% Free — You Don't Have to Pay to Use Airo
Airo is completely free to use! So you can go to the website, download the software and you'll be ready to scan your computer in a few minutes. However, remember that it's a really basic antivirus that's just focused on scanning for malware. You won't be protected from many other threats at a network level.
If you're looking for something to give you more comprehensive digital safety (with a network firewall or parental controls), Intego is one of the best Mac-focused antiviruses on the market. Plus, you can try it for free for 30 days during its money-back guarantee period. I managed to get my refund in just 10 days after a quick online chat with a customer service staff.
Final Verdict
Airo is a basic, free VPN that does a decent job of protecting Macs from viruses. It had a perfect score for detecting and removing malware during my tests. Plus, it's specifically designed for macOS which means it defends against the latest attacks on the operating system.
However, there are several disadvantages to Airo. It did not scan as many files as some other top Mac-antivirus, which made me wonder if it really analyzed my system completely. It's also missing many standard bonus features included with most antivirus software and the mobile app wasn't very impressive (even though it looked nice).
If you're looking for more comprehensive safety on your Mac, I recommend Intego instead. It detected 100% of malware during testing and scanned almost 3 times the number of files compared to Airo in the full scan. You also get many extra digital security features like network protection, parental controls, and online browsing security. As a bonus, you can try all its features free for 30 days using its money-back guarantee! If you're not satisfied with its performance, simply ask for a refund from its customer service — my money was returned in just 10 days!
FAQ: Airo Antivirus
? Is Airo antivirus safe?
During my tests, I found that Airo is safe to use and provides adequate security for your Mac. However, it doesn't quite match the protection offered by some of the best Mac-focused antiviruses on the market. For example, Intego was much more thorough — its full scan analyzed nearly 3 times more files than Airo. It also has many additional features like network protection and parental controls.
You can even try Intego free for 30 days with its money-back guarantee. I managed to get my money back in just 10 days after contacting customer support through live chat.
? Is Airo the best antivirus for Mac in 2022?
For a free service, Airo will give your Mac adequate protection. However, it's definitely not the best Mac-focused security software on the market. One of the biggest drawbacks is its lack of additional features that come standard with many other antivirus services.
If you want something that will protect your family's digital safety and web surfing habits, Intego is a much better option. I found that it was the most complete antivirus for Macs, and you can even try it free for 30 days using its money-back guarantee.
Top Choice
🏷️

Pricing Plan
Free

💰

Money-back guarantee

🏳️

Free trial

⛔

Firewall

No

🛡️

VPN included

No

📱

Number of devices
Visit Airo